How to choose webinar software - The ultimate webinar buyer's guide
Updated: November 1st, 2023
Published: March 21st, 2023
Are you trying to find the best webinar software for your team or yourself but feeling overwhelmed with all the options out there? Don't worry. We've got you covered! This article will provide a comprehensive overview of how to choose the perfect webinar software for you or your team's needs, whether it be marketing, sales or customer success oriented webinars. Rest assured that there will be no doubts about what you are looking for in your next webinar software.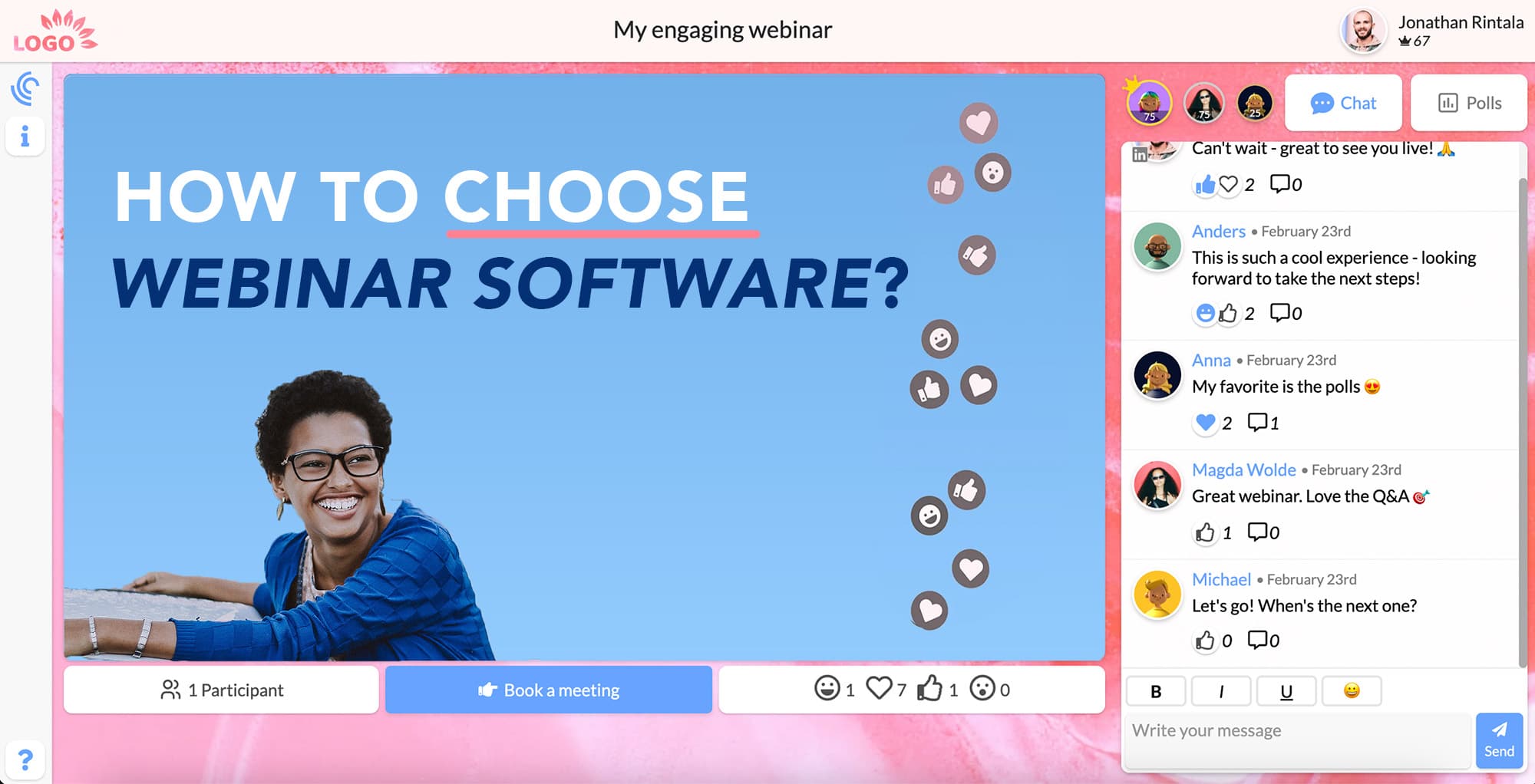 When choosing webinar software consider the following 3 factors
Webinar format: The most significant differentiator is whether you aim for hosting live or pre-recorded webinars. Live webinars are the most popular approach because they generally yield better results and offer greater flexibility when it comes to webinar formats.

Convenient Webinar Features: You need to manage registrations effectively, especially if webinars occur frequently with larger audience sizes. Other convenient features are for example email reminders, better quality in recordings, CRM integrations and compliance such as GDPR.

Does the webinar software align with the things that matter? Effortlessly guiding attendees to the next step is a common objective in delivering a successful webinar. Other vital factors could be to easily collaborate with coworkers while being live, a productive moderator interface given the presentation space (studio with camera vs laptop at home has different needs in terms of the moderator interface), working with audience engagement, and quick access to KPIs.
---
1. Webinar format and requirements

A central requirement when choosing webinar software is whether or not the webinars are run live or pre-recorded. When running live, there are more webinar formats to choose from.
Here are tips for choosing between live or pre-recorded webinars:
A. Live webinar 🔴
Live webinars are great for creating a unique experience that can't be waited for or taken next week. It builds trust in the customer's mind, as they will know they can get answers quickly and effectively.
The live format has been proven to yield more data and conversions from webinars. Both in terms of feedback in chat, Q&A and polls answers, but also higher conversion rates on next steps via CTA (Call-To-Action) clicks.
The tradeoff is the time investment, being much higher compared to pre-recorded webinars. Though, it also shows that your business values the audience's time and that the content is important enough to presently speak about. Therefore, this is one of the most common forms of webinars.
B. Pre-recorded webinar 🎬
This is powerful if your webinar format covers low or no variety in the content presented. In addition to perfecting the presentation by doing retakes and refine details to get it really good before publishing, pre-recorded webinars will require less time from your business once the production is finalized.
If you have an audience that is very busy and lacks the time or if your company cannot yet be operative when clients are, on-demand or automated webinars are well suited.
Get started todayJoin over 70,000 users and create unique webinars with Univid.Create free webinarGet a demo
Webinar software for teamwork or solo endeavours?
Arranging a webinar involves many steps. So if you are a small team, you might want to spend as little time as possible on each step except the delivery of the presentation. You may also not have a certain function within your team. Then it is valuable to have everything managed by the webinar platform itself despite little customisation capabilities.

However, if you have more time and resources for your webinar and think about what each co worker's role is in the webinar collaboration, will the webinar software be easy for you to involve everyone into?
Some examples of requirements could be whether or not it is easy to add multiple coworkers to manage the webinar room. Will there often be new people presenting? Is training and support valuable? Perhaps a CRM integration that can aid the collaboration with other departments also be of value?

What are YOUR webinar formats?
Depending on the format, your audience may have a close or not close relationship with your company (think about a sales demo compared to a training session), while an audience you already know might be more forgiving of the webinar software, it may still be worth valuing an intuitive interface of the webinar software.
It's crucial to consider the overall user experience with the webinar software for both presenters and attendees. For some formats a branded webinar interface that goes beyond intuitive and easy is a valuable choice.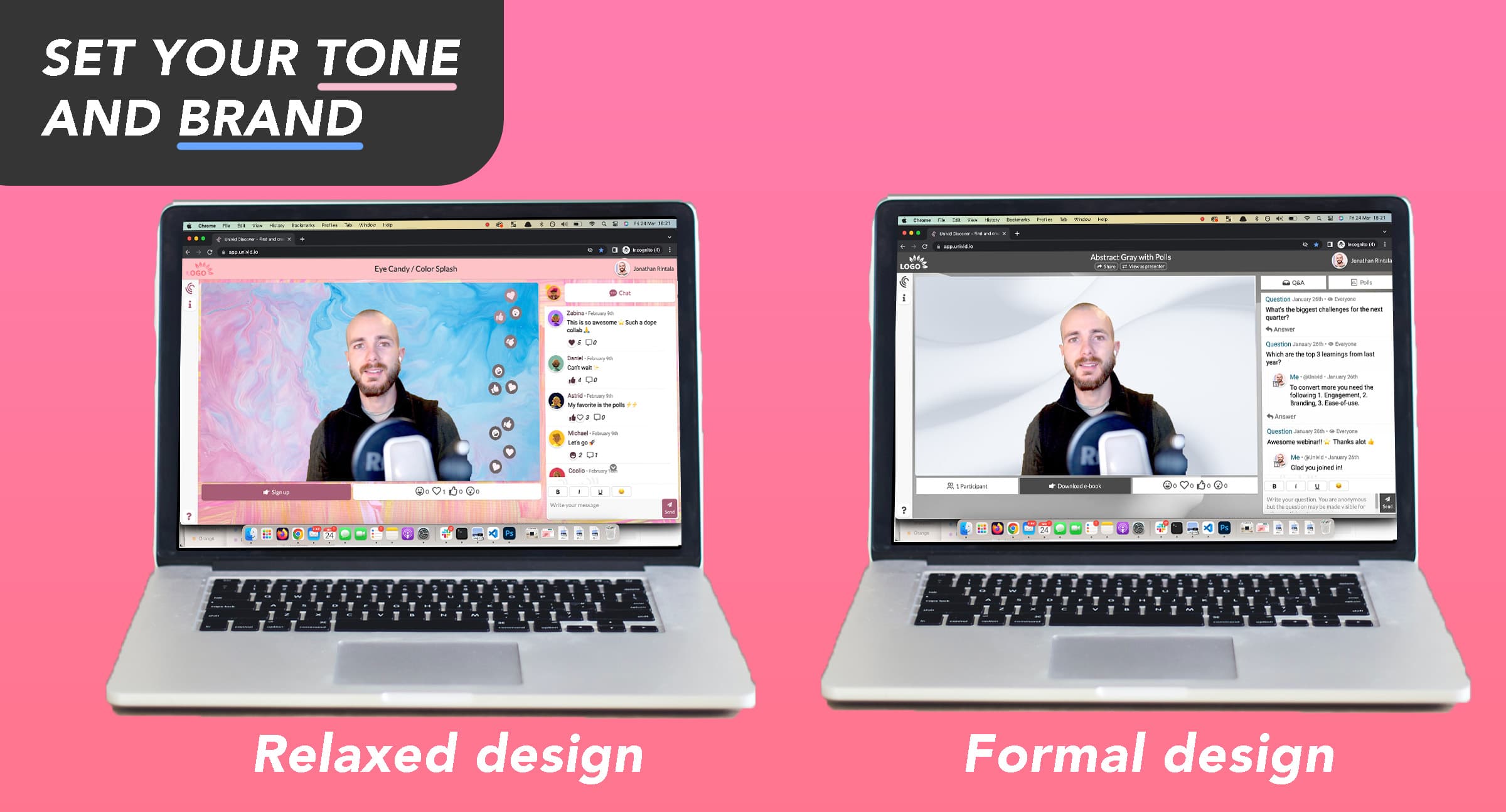 Ask yourself what would be most suitable of these two options: invite a client to your office desk, or the your favourite meeting room? Same principle goes for webinars. Consider if the audience could benefit from a good impression by setting an atmosphere of professionalism, and a sense of trust and security in you and your business.
Your brand appearance says a lot about your culture and nature as a business, so consider branding capabilities to give off the right vibe.
On another aspect of the format, there might be different presentation assistance tools and interactive features that support these formats effectively. Consider features like screen sharing, real-time chat, Q&A management, live polls, and more.
The audience size determines interaction
Consider how the audience size impacts the capabilities to interact.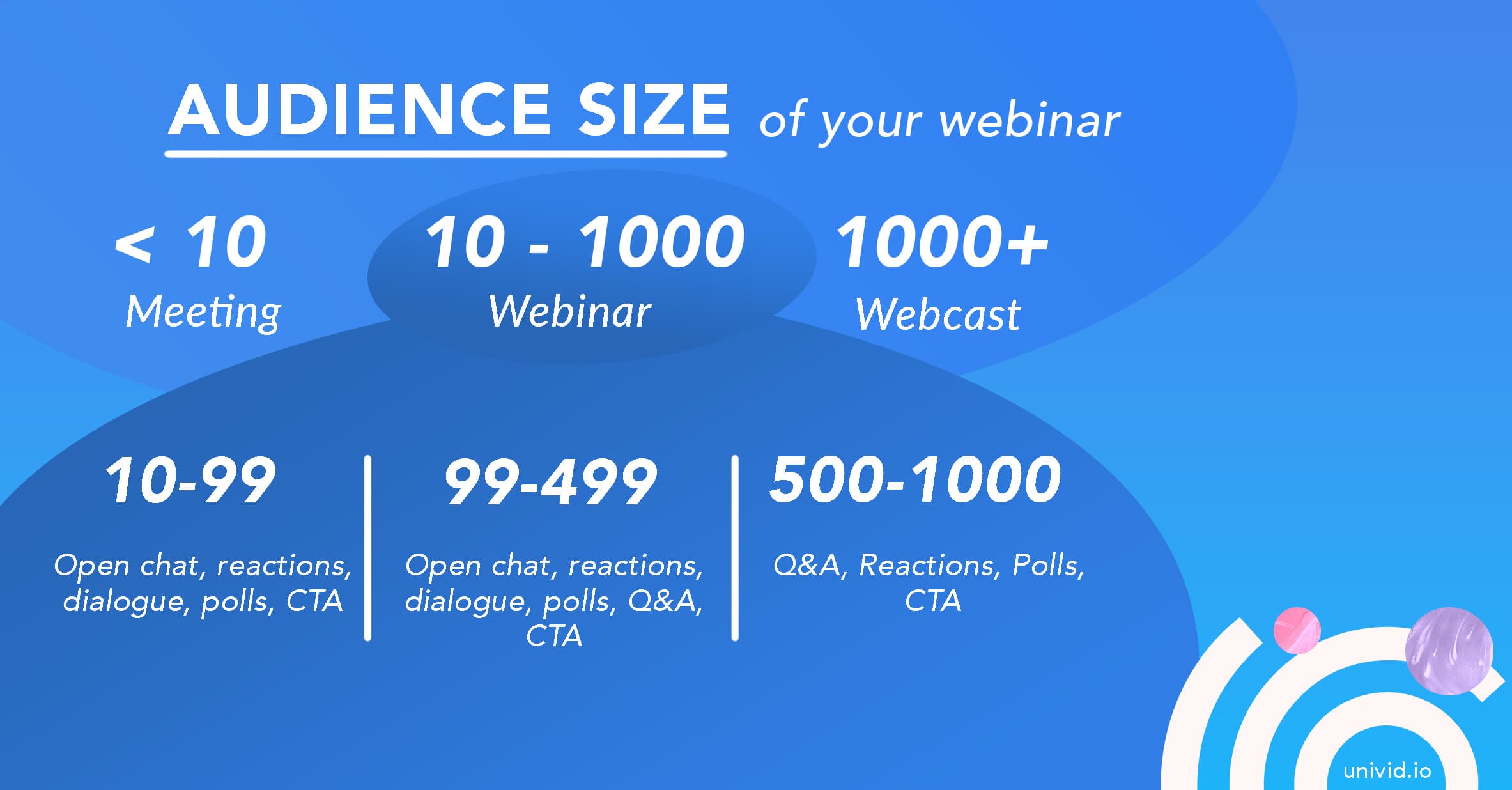 A general rule of thumb is that the more interaction you can use in your webinar format the better. Though this also puts some pressure on the hosts.
Companies that offer webinar software should care about that your company works with interaction and develop the interactivity of webinars at a good pace, adapted to your business.
Keep in mind that there is a lot of meeting software that approaches webinars with a "one size fits all" and incorporates little to no difference between virtual events and regular meetings. Consider if a dedicated webinar software could be of better use to save time and achieve your goals.
2. Convenient Webinar Features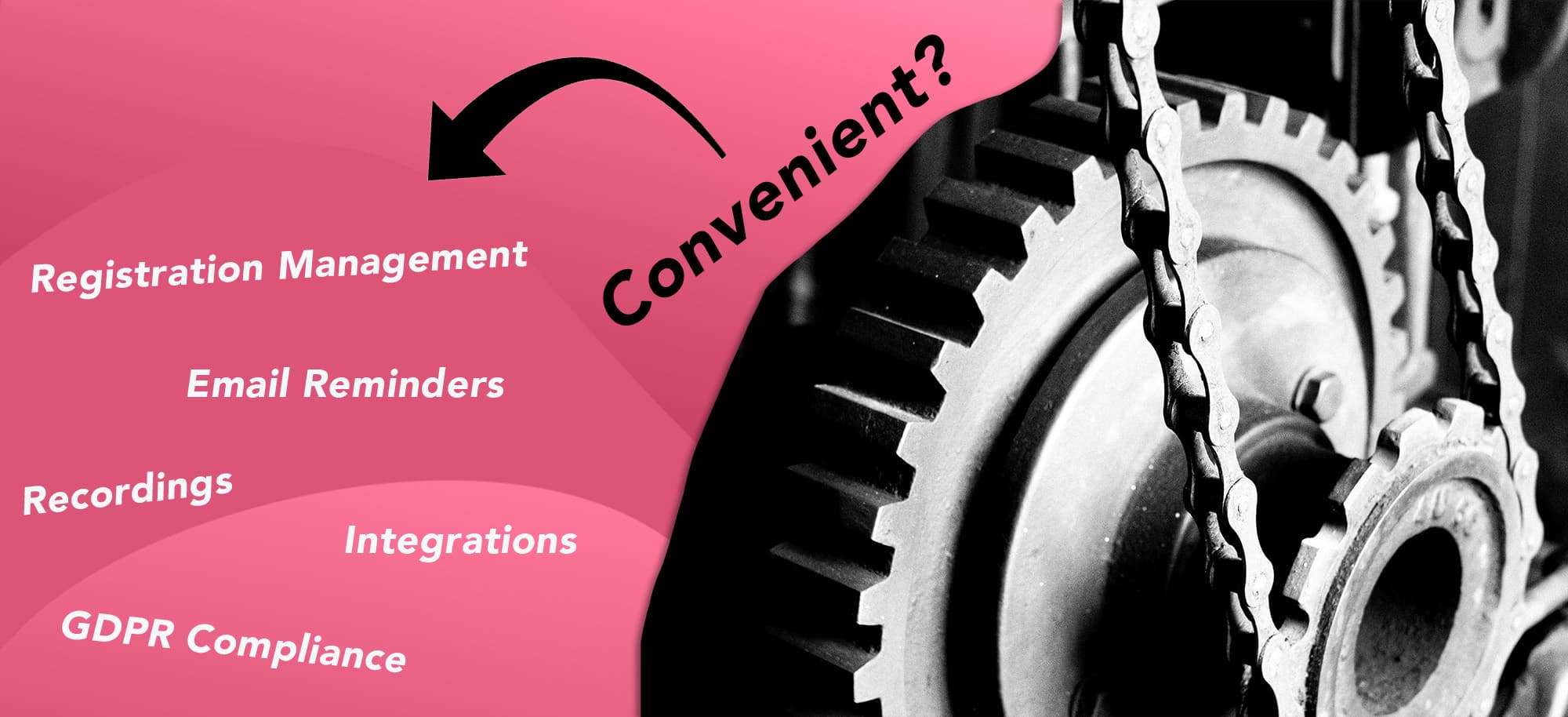 Most webinar software offers the features that are presented below. However, it is important to consider your company's circumstances and reflect on how well they align with the day-to-day operations. Note that these features can differ quite a bit in how well they suit your company's needs.
Registration management: The second most time-consuming task, after the webinar presentation is to administer registrations. If you are frequently arranging webinars or have a bigger audience size it might be unbearable to administer without registration forms included in the webinar software. For even more complex workflows a CRM integration might be a must have.
However, if you are arranging 4 to 6 webinars a year it may be enough to import or export attendance lists to still operate a smooth workflow. For paid or restricted-access webinars, controlling who can attend the webinar must also be considered. Payment gateways might not be optimal for various reasons, but the webinar software must at least be able to control who may view the webinar for such use cases.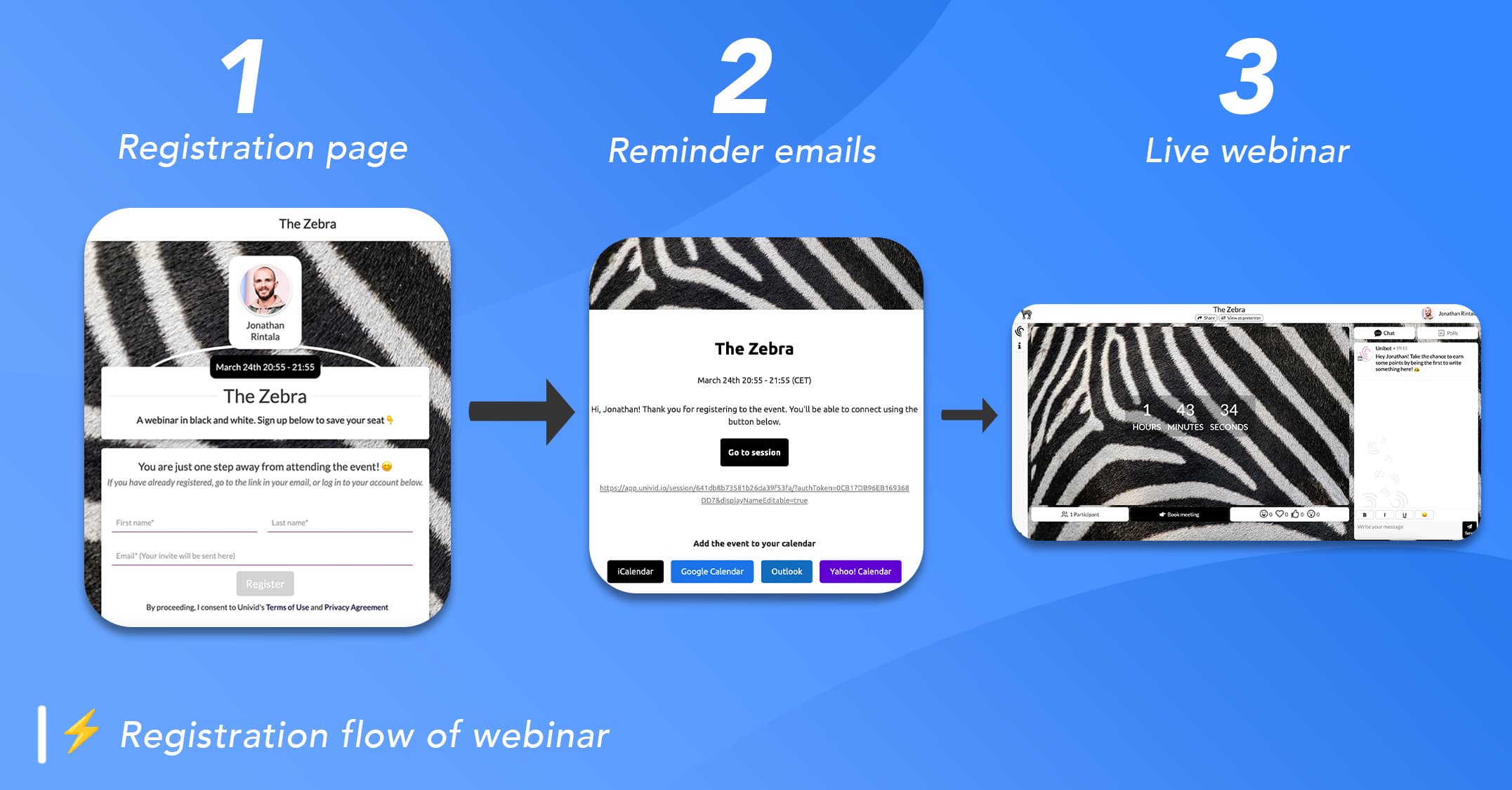 Email reminders: This may not be as important if it is a paid session, but in general you can impact the attendance rate by making sure that your audience remembers to join! And if your webinar is not added in their calendar they might double-book themselves or forget about your webinar. Therefore make sure the webinar software offers an "add to calendar" feature and clearly states "how long it is left until the webinar will occur".
Generic reminders sent out can leave a confusing, and even sometimes spammy impression on your potential attendees. Hence the importance of not only having reminders, but getting reminders right. Reminders can for example be sent by email.

Recording: Obtaining a recording is today a standard part of having a webinar just as it is expected for your audience to see your webinar, however, the final usage of a recording can demand more requirements than just obtaining a recording. This could for example be video quality.
Integrations: there are differences between integrations and integrations. To clarify, there is a distinction between native integrations and 3rd party integrations. Native integrations (no 3rd party integration tools involved) tends to support more custom workflows and no 3rd party costs.
However 3rd party integrations, so-called non-native integrations, such as Zapier or Make are still powerful and can suit a more straightforward integration need. So depending on your organisations workflows before and after webinars, easy-to-use integration that not only "feeds data" to your wanted system might be a requirement.

GDPR and other compliance standards: If your organisation is subject to specific data protection regulations, such as GDPR, HIPAA, or CCPA, ensure that the webinar platform is compliant with these regulations. One specific consideration for webinars is whether or not recordings are allowed to include attendees' names.
3. Does the webinar software align with the things that matter?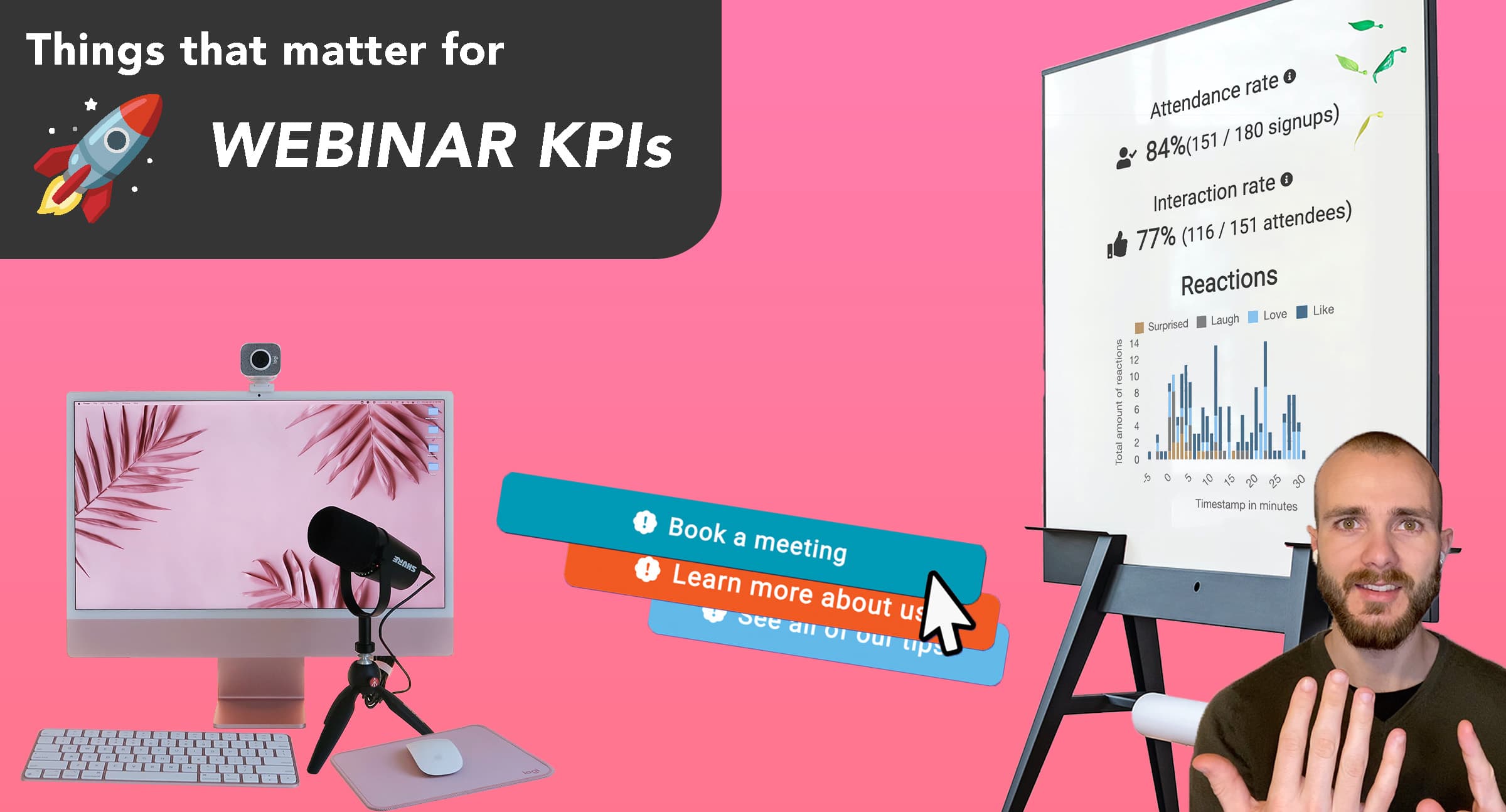 Webinars are seldom a one-man show. While there are ways to easy manage the registration of a webinar for you or a coworker. It can still be quite challenging or unforgiving for your coworker thats hosts the webinar to go live without issues.
Therefore it is critical to assess how easy it is to deliver on the aspects that in practice impacts your webinar KPIs positively or your audience (don't forget the audience experience). You might even want to consult your team about the topics below to make a well-informed decision.
Facilitation of the next step - In a webinar strategy there should be a clear plan for what the audience is expected to do after the webinar. For example, the next step could be to register for the next webinar, read more information on the company page or book a meeting. Evaluate how easy it is for attendees to convert by giving them something of value that was mentioned during the webinar - this could be a special offer or more detailed information related to the topic. What is your next step? Does the webinar software align with your goal?

Tools to keep the audience engaged - Webinars obtaining the best outcomes have an engaged audience (see why here). The key to keeping your audience engaged is to listen and understand what they require. The more you know about your target audience, their challenges or needs the better chance you have of keeping the conversation going. To create such atmosphere one must interact with the audience.
For example by providing an open forum for discussion, setting expectations beforehand and utilizing various tools like polls, Q&A, and reactions to encourage your participants' involvement.
When using interaction tools, you create more opportunities for interactions that keeps your audience engaged, this could even open up dialogues after the webinar is finished. Remember that depending on the webinar tool your audience might have a higher learning curve of how to interact with you. Therefore easy-to-use webinar software is preferred to give your audience the best experience.
Webinar KPI dashboard - while smooth registration management and actionable next steps tend to provide measurable and actionable KPIs, having a direct access summary of the webinar can enable you to take action on a day-to-day basis or quickly communicate actions to your organisation to further improve the KPIs.
Recording (quality and storage) - Ask yourself what the purpose of the recording is. The first critical consideration is if the content will be repurposed, and used in other marketing or communication efforts. Other questions to ask:
Are video and sound quality important for the recording? Will the webinar be possible to watch on-demand?

Is the webinar recorded automatically in the webinar tool?

What quality is the recorded video stored in - 1080p or lower resolution e.g. 720p?

Does the recording need to be cropped or edited?

Does the webinar software support different layouts (e.g. that it is only the shared screen that gets recorded) to directly be recorded while being live to speed up the editing process?

If multiple webinars are produced - can you gather all of these on-demand webinars somehow in an overview? Is storage offered by the service?
Presentation setup - Depending on if you are arranging webinars on a laptop, from a meeting room or using a dedicated studio the ease of use can vary.
For example, if you are collaborating with a coworker in the webinar presentation, there are higher requirements on the software if working remotely than together in the same room.
To give another example, that typically occurs in studios, it is common that PC screens are placed at a distance from the host. Hence there is a need to have a bigger text size on the interface compared to if you are sitting in front of a laptop while presenting.
On another note, make sure that the webinar software is easy to work with whether you have external PC monitors or not. If there is a moderator available to read the chat, filter answers in polls and manage presentation modes this is not as important. But if that's not the case, you should put higher demands on an easy-to-use user interface.
Make webinars your own
Webinars are in both good times and bad times, a great way to engage customers in an interactive and educational experience. Whether it's live or not, whether you have new faces or the same ones attending every time, webinars will always be a fantastic concept to include in your company's strategy.
Planning is the key to achieving your goals and successfully taking into account everything needed to produce crisp, engaging webinars.
Actions are for example, that the audience remembers to join, registration management is effortless and the hosts are comfortable and will work with interaction tools; thats when all the focus can be on the next steps after the webinar which will impact your webinar KPIs to the better.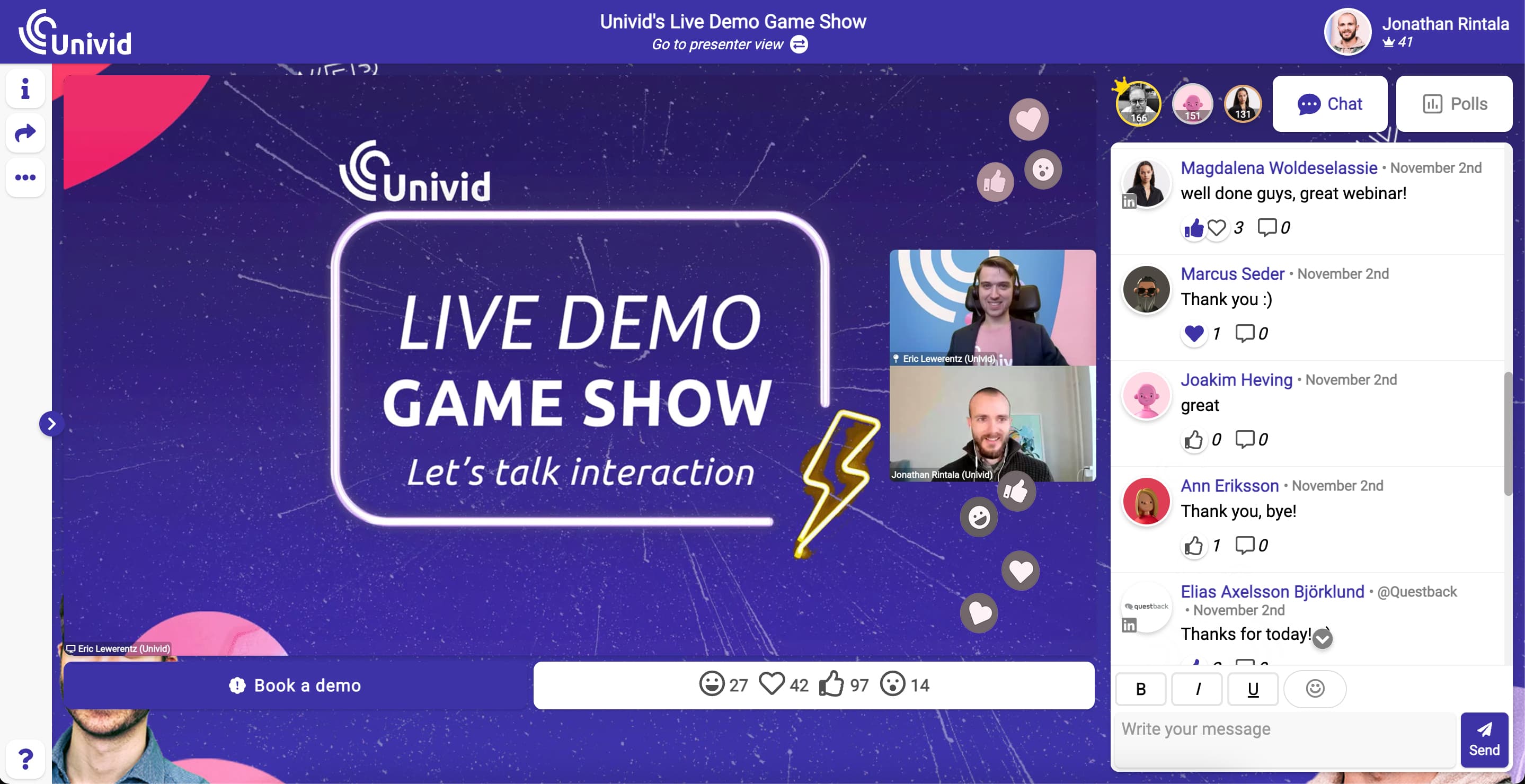 The Univid webinar platform can be customized entirely to your branding in 60 seconds
Lastly, don't forget that as a part of your business, you should focus on incorporating branding into all activities you organize. The best part is that we are here for you to get inspired in branding which, among other things, can create the atmosphere of professionalism, and a sense of trust and security in webinar hosts and your business. Take inspiration from our templates because in the end, webinars should a representation of who you are as a brand! If you instead would prefer seeing your brand in action, get started with a custom AI generated session from your company domain in less than 60 seconds.
Get started today
Join over 70,000 users and create unique webinars with Univid.
Get the latest webinar hacks