Zapier Integration to Univid for Webinars
Integrations ⚡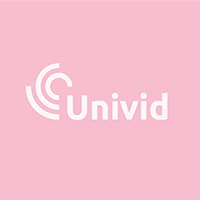 Boost your webinars with the seamless Zapier integration to Univid. Automate workflows, increase productivity, and insights from your webinars today!
Discover the power of Zapier integration to Univid for webinars, the ultimate solution to simplify your virtual event management and elevate audience experience. With this seamless integration, you can now automate your workflows, save time, and focus on delivering engaging content for your attendees.
What is Zapier?
Zapier is a web-based, no-code, automation platform that connects and streamlines workflows between various software applications. There are 3,000+ apps on the Zapier platform, such as Gmail, Slack, Trello, and Mailchimp. But also all the major CRM:s like Salesforce, HubSpot, LIME Go, and Pipedrive - allowing you to feed webinar data back into your CRM.
By integrating multiple apps and services, Zapier helps businesses and individuals save time, increase efficiency, and eliminate repetitive manual tasks.
What is a Zap? ⚡
Zapier allows users to create automated processes, called "Zaps". A Zap in Zapier is a simple automated workflow that connects two or more apps to perform a specific action.
A Zap consists of two things:
A trigger: an event that starts the workflow

Action(s): the tasks that are performed after the trigger event
These workflows can be as simple or as complex as needed, depending on the user's requirements.
Example: A Zap for in the webinar context could be - "register user to the Univid webinar, when they sign up in a LinkedIn Live Events form".
Trigger: "sign up in LinkedIn Live Events form"

Action: "register user to the Univid webinar"
Zaps help you streamline repetitive tasks, save time, and improve efficiency in your webinar workflow.
Three benefits of connecting your Univid webinar to Zapier
Effortless automation: Connect Univid with 3,000+ apps on the Zapier platform to automate repetitive tasks, such as sending follow-up emails, tracking registrants, and managing the post-webinar flow. Although this function is available in Univid, it may be interesting to connect to Zapier, if you want to use your own email service, or your very own sequences.

Time-saving registration workflows: Set up custom Zaps to streamline your webinar planning process, allowing you to focus on creating engaging content that leaves a lasting impression on your audience.

Improved insights: By automating the flow of webinar insights, you can better understand how your audience engaged in the webinar, like polls, live reactions, Q&A, and real-time analytics. This way, you can improve your webinars, over and over again.
Unlock the full potential of your Univid webinars by integrating with Zapier today!
Already using Univid and ready to connect to Zapier, or want to try it?
Below you can see how to connect your Univid session to Zapier.
Get started today
Join over 70,000 users and create unique webinars with Univid.
Get the latest webinar hacks