Almi hosts digital coffee talk empowering women entrepreneurship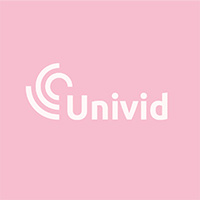 Updated: February 22nd, 2023
Published: October 4th, 2022
Almi Stockholm Sörmland hosts a digital coffee talk in webinar format to discuss women entrepreneurship. In a graphically pleasant environment, the webinar could take place in a Univid session, where participants could chat, react, answer polls, ask questions to the panel and inspire each other! The Coffee talk panel consisted of Almi's CEO Sara Brandt, Lina Skandevall - expert on women's entrepreneurship and Natalie Kjellander, CEO of Let's Paint.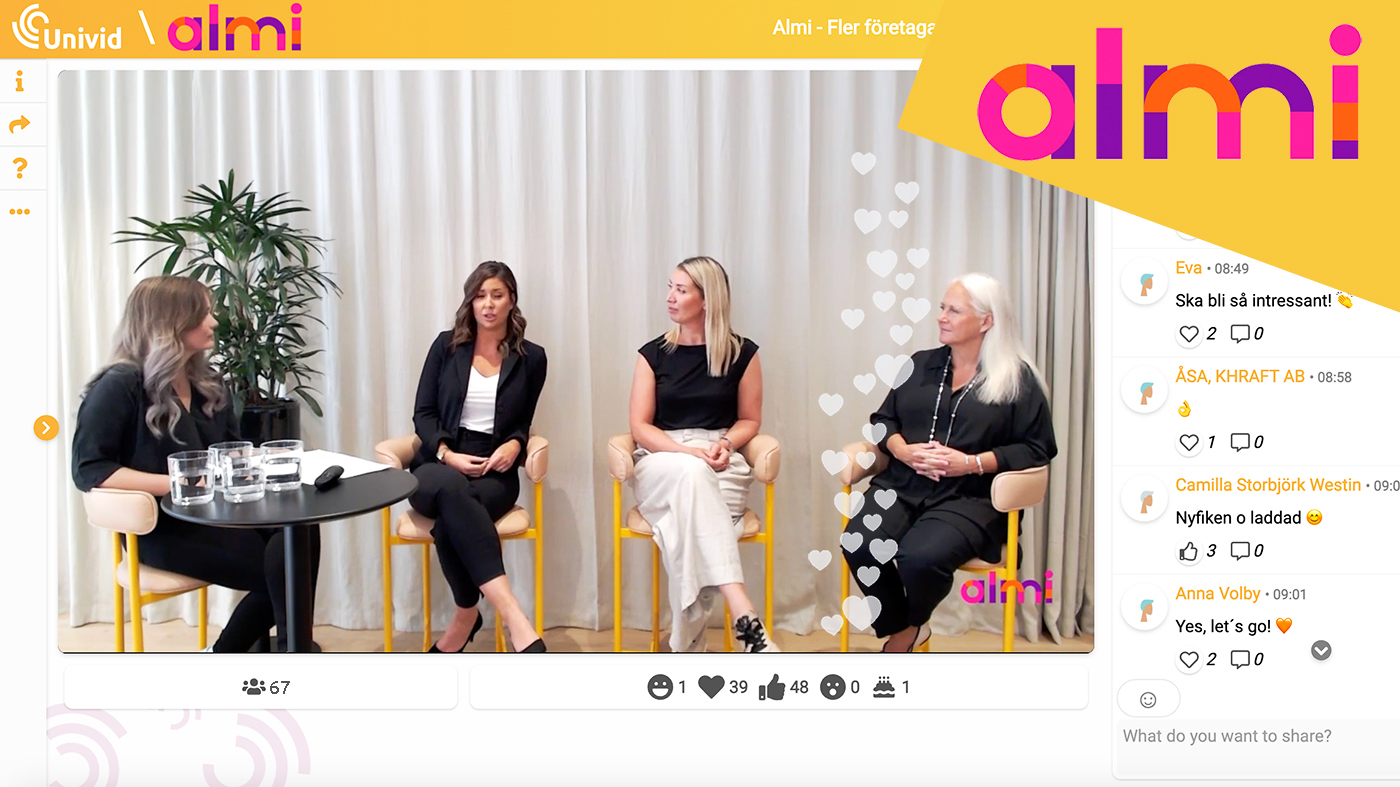 More women entrepreneurs - a webinar for an equal business community
In this digital coffee talk and webinar, women's conditions as entrepreneurs were discussed. Women are still underrepresented among both entrepreneurs and closed investments rounds in start-ups. In the coffee talk panel, with e.g. Almi's CEO Sara Brandt and several other prominent women entrepreneurs, had a discussion about areas such as consulting, networking and financing. Among other things, questions were answered such as:
How do we push each other to dare to invest in our business ideas?
How do we feel affected by the financing and advice that the promotion systems offer?
And what exactly is success and growth?
Webinar from studio with interaction
The coffee talk is thus held as a webinar, and was broadcast from a simple studio! In a seamless way, polls could be sent out to activate the participants. In addition, the panel in the studio could easily see and answer what the participants asked and wrote in the chat, which enabled an interactive experience with a real live feeling!
What did the participants think? Some lovely comments from the chat
The participants could thus participate and ask questions to the panel, answer polls, and discuss with each other in the chat. There were a lot of reactions and great flow in the chat. Some fun feedback from the webinar's participants can be seen below:
Thanks!! More of this stuff - really inspiring
What a great webinar. And such cool girls on the panel. You would want to hang out with you all day.
No questions yet but just want to say BOOM what power ladies, get so inspired by you all 🔥❤️
A thousand thanks!
So good!
Almi Stockholm Sörmland
Almi describes itself on the website briefly as "Almi Företagspartner AB is owned by the state and is the parent company in a group with 16 regional subsidiaries and the subgroup Almi Invest. The regional subsidiaries are 51 percent owned by the parent company and 49 percent by regional owners and offer loans and Almi Invest AB is 100 percent owned by the parent company and conducts venture capital operations. ".
Almi Stockholm Sörmland is thus part of Almi, a subsidiary, which offers loans and business development to startups. Some telling figures from Almi Stockholm Sörmland's website for their work in 2020 are:
6000 new loan customers
3.2 billion in new lending
11,500 actions in business development
175 investments
316 million SEK invested venture capital
For Almi, it was important to have a beautiful, simple and interactive experience for their webinars - which made the choice of Univid easy!
A nice collaboration with Booky
Booky is an agency that makes it easy to find and book content for events. Together with Booky, this became a great webinar, and with a simple but professional studio setup, the panel in the studio could easily see what was happening in the chat and interact with the audience! With a common goal of creating memorable events, Booky creates great experiences with Univid as a platform! Booky can, among other things, help to book lecturers, moderators, comedians, conferences, magicians, sommeliers, chefs, or quiz moderators. Simply quite a lot of fun content for your events and webinars!
References:
Get started today
Join over 70,000 users and create unique webinars with Univid.
Get the latest webinar hacks