How webinars work and why you should use them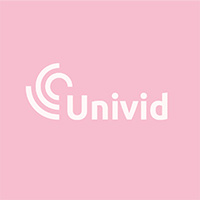 Have you ever thought about how you can hold an entertaining and unique event for your customers and potential leads? The benefits of a so-called webinar that both impresses and engages the audience are many - let's dive into the world of webinars.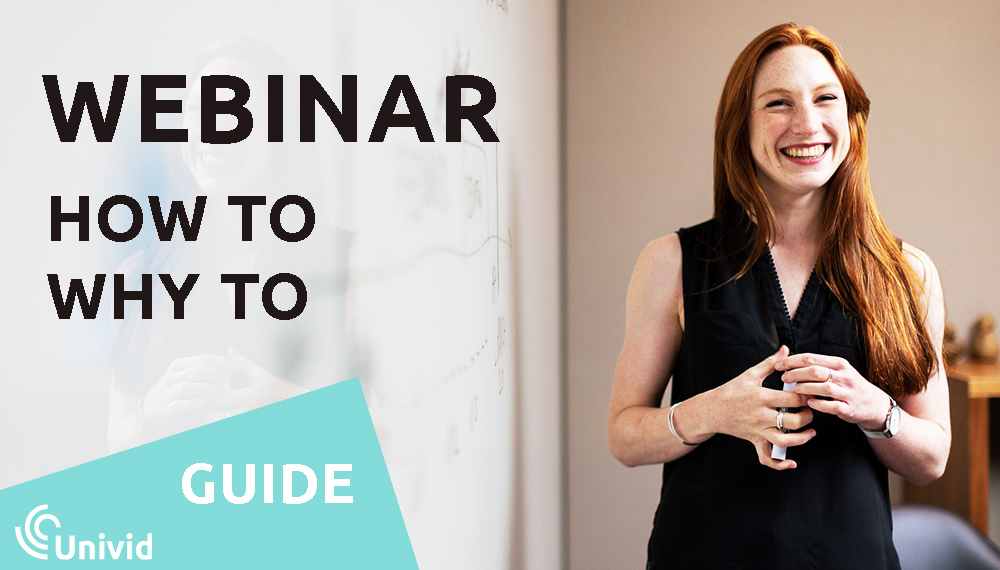 Webinar is widely used by companies and organizations to market, sell, create visibility, train in an area or showcase a new product. The format and simple technical platforms mean that webinars can be held by anyone within an organization with only one webcam, or done in a more professional setting via studio.
What is a webinar? Why should I hold a webinar? How do I hold a webinar? We go through and answer what a webinar really is, why you should hold one and how to create a webinar in 9 simple steps!
What is a webinar?
A webinar is a presentation, seminar, workshop or lecture in video format that is done online. Webinars are usually broadcast live or in real time, but they can also be pre-recorded and broadcast as if they were live, or available on-demand so participants can sign up to take part in them.
A webinar is a bit like a mix between a traditional live broadcast and a video conference. Webinars can be broadcast either from a real studio or as a meeting via webcam. It is often clear who is the presenter, there is room for improvisation and to invite in participants from the audience.
Interaction that allows participants to participate, ask questions, chat and collaborate with the presenters is an extremely important part of the webinar; which both make them memorable and increase the conversion rate!
Why you should host a Webinar - 6 benefits of a webinar
1. Positions you as an expert
Visibility is today absolutely crucial to success in the digital world. By holding a webinar, you position yourself as an expert and take a leading role in the current niche. With webinar, you can effectively position yourself as an actor to trust - someone who knows the field, can answer questions that arise - and you can thus establish a positive relationship with many leads at once! At the same time you can strengthen the relationship with existing customers.
2. View a demo of your potential customer or service
Through webinar, you can train prospects or existing customers on your product or service. A perfect way to create a living direct contact with customers where you emphasize the benefits, functions and how your value proposition solves the challenges the different customers face. Let the webinar have a lot of interactivity - create dialogue and encourage participants to provide input, questions and thoughts!
3. Creates content that can live on
At the same time as you convey a live experience to all participants in the webinar, you create video material that can be used in many contexts in the future. For example, you can cut the material into a short summary to publish on social media or on the company blog. A popular variant is to have the webinar available on-demand afterwards on the website, where interested individuals can sign up with an email address to access the webinar. A great way to continue sourcing leads and generating inbound!
4. Increases brand awareness
Visibility is today absolutely crucial to success in the digital world. By holding a webinar, you get your business out in many channels in a unique and engaging format. A good webinar creates great value and a memorable experience for the participants who are thus happy to share your company with colleagues and within networks!
5. Increases conversions and revenue
A webinar can be used to the fullest to convert leads and generate revenue. By imparting knowledge and taking on the role of expert, potential customers will to a greater extent trust you and consider becoming customers. By having a clear call-to-action e.g. with a direct button to the homepage on the broadcast page, the conversion rate can be further increased.
6. A cost-effective format
A live event with studio, or larger production of film is often costly as it places high demands on expected quality. In addition, a webinar means that costly travel and physical events can be reduced - and you can instead budget on the parts of the sales process that make the biggest difference!
7. Travel less and reach customers worldwide
With digital meetings and webinars, geographical location is no longer a limitation. Maybe you can reach customers in new markets you have not had the opportunity to meet before. In addition, it gives customers the opportunity to participate digitally on their terms, where they may previously have had time to set aside for a physical event.
How to create a webinar - in 9 steps
Step 1: Choose a platform for your webinar
The first step to hosting a webinar is to choose the platform for the broadcast or meeting. Important factors here are to explore opportunities to add a call-to-action button, customize with your own branding and appearance, interaction options, how easy it is to host the webinar and what analytics are available afterwards!
Webinar platform is of course crucial for you to have a good process as a host, and for your participants to have a wonderful and memorable experience. For some simpler webinar, a meeting tool such as Zoom is sufficient, but it is recommended to use a dedicated platform such as Univid for these types of webinar with features to solve all important webinar-specific challenges, with the possibility of :
Statistics for analyzing conversions and activity
Interaction with polls, quizzes, live emojis, chat
Call-to-action features to increase conversions
Highest quality recorded video
Super-simple user interface
Custom branding with the ability to customize colors, logos and appearance
Step 2: Choose the topic and presenters for your webinar
Do not focus on selling your product or service, but instead focus on solving customers' pain points and challenges when choosing a topic. Make sure to contribute as much value as possible and choose content based on what the participants need to hear.
Speakers and presenters are important for attracting audiences and interest. Choose carefully here - make sure to use people in your organization, but also be open to bringing in guest speakers and creating a panel of experts. It is important that the speakers are comfortable in front of the camera, have expert knowledge and are good at moving the webinar forward.
Step 3: Choose the time and date for your webinar
Where does your audience or target audience live? Be sure to keep track of time zones and consider holding multiple webinars on the same topic if you are targeting several different geographic zones. Check out this free webinar scheduler we built for this exact purpose - to help you schedule webinars on the perfect time.
Step 4: Create the content of the webinar
This is where the majority of the work takes place before the webinar. Make sure to prepare what is to be said and presented, but also how the webinar is to be marketed.
The content of a webinar includes a script for what to say, which can be different degrees of support notes. As long as the speakers feel comfortable and ready if someone should lose the floor! Plan for interactivity and how you will engage the participants - maybe through a few quick polls or even a quiz competition with some fun prizes! Also, plan a small poll at the end to gather feedback when it's fresh in your mind - which can help you prepare for the next webinar.
Marketing before the event includes creating some form of registration page before the webinar, and then pushing it through the company's channels on social media, blogs and email lists. Structure the flow from the invitation, registration to the participants receiving a link by email to enter the webinar. And be sure to test everything before sending out the invitation!
Step 5: Invite participants and market the webinar
Be sure to be out well in advance here and market the webinar several weeks before it's time. The majority of participants sign up 1 week before the time, and about 30% sign up the day before the webinar.
Step 6: Run a test run and prepare your studio environment
Make sure everything is ready for the webinar and that you have tested all the critical steps before going live. Test all technology before, so that the webinar flows on without interruption or annoying stress. Make sure all presenters and speakers have tested the platform before, and that they use the same headphones, browser and technology as when you then go live. Try to get as similar an environment as possible as when you go live and take the opportunity to invite some colleagues to get feedback from the participant perspective!
Step 7: Hold your webinar
The big day is here and it's time to host your webinar! The slightest technical fuss can make the participants lose focus and influence the experience - so make sure to be on time, test all the technology one last time with the other speakers and wait for the time for you to go live!
Step 8: Follow up and thank the participants
The webinar is over! Great, then it's time to send out a thank you email to all participants and take the opportunity to gather some feedback about how they experienced the webinar. Catch the participants' attention with an offer, tips on upcoming webinars or an interesting blog post. Maintain the newfound relationships and drive them to convert through more valuable content, facts and dialogues!
Step 9: Analyze the data from the webinar
Depending on the platform, your webinar has generated some very interesting data. Be sure to really go through this data to see how you can make the next webinar even better, both before (where did the participants find the webinar), during (how committed were the participants and how many converted) and after (what kind of relationships have been created and how have they been maintained).
Get started today
Join over 25,000 users and create unique webinars with Univid.
Get the latest Univid updates