31 interactive events in 3 days with Skola24 - Schemadigidagarna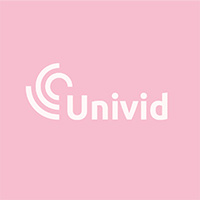 Published: October 20th, 2021
In an action-packed schedule, Skola24 conducted over 30 digital events for schedulers around Sweden at Univid. In both studio broadcasts and interactive breakout meetings, the nearly 200 participants were able to take part in three engaging full days in Univid. Speakers included real hotshots - including the bright star Marika Carlsson! With simplicity, the participants could overview and navigate among the various events in a stylish flow. Truly a magical feeling to see how places from almost all of Sweden were represented among the participants and see the participants' response to Univid afterwards!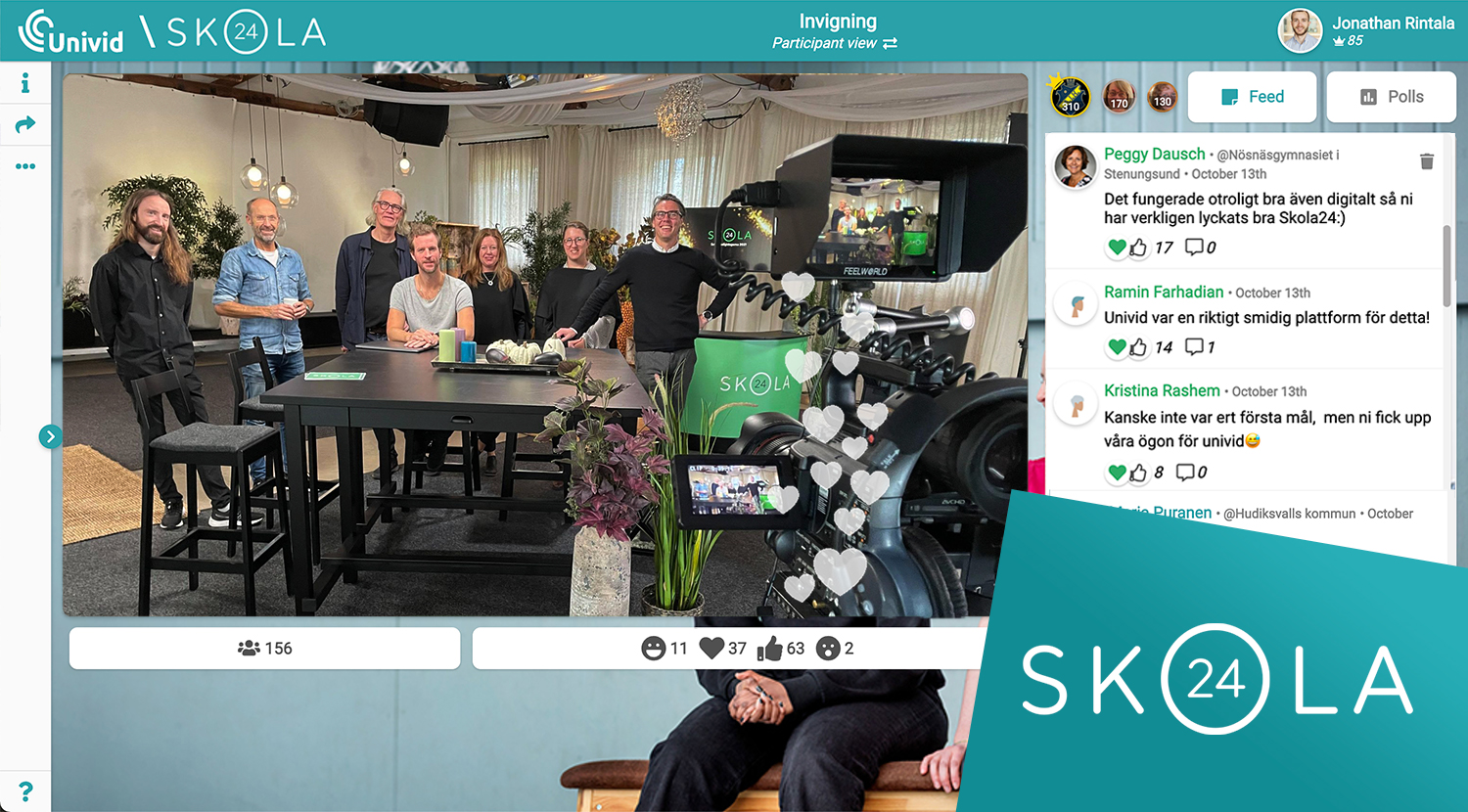 Nearly 200 event participants all over Sweden
With almost 200 event participants and schedulers from all over Sweden Skola24: as Schemadigidagar was an intense event - twice as big as last year! In the poll, the participants could answer where they came from and it was awesome to see how answers emerged that showed how the participants represented towns, counties and municipalities all over Sweden! See the poll's answer below as a graphic word wall:
Flow to overview and navigate among all digital events
31 events during three intensive days - how in the world do you get an overview of such a schedule? Well, Skola24 are experts in scheduling - and as a leading player in Sweden on schedule - they liked the clarity and appearance of Univid's flow for events. A couple of weeks ago, the Schedule Days were held at Univid and it was a real success!
In Univid's feed, participants could thus easily get an overview of all the 31 interactive events that the Schedule Days offered. Event participants could easily navigate around the various scheduled studio broadcasts and visit the interactive breakout sessions. Skola24's awesome event team set up a nice color theme and template directly in Univid, where they then quickly created all 31 interactive sessions.
Color theme and beautiful graphic profile with Skola24 in the center
The color theme, apart from the fact that it was strikingly beautiful and really breathed Skola24, made it easy for the participants to see what kind of event it was in each session. The event card was available in three variants:
Gray - Check-in, where participants could ask some questions about the event days and get technical support.
Purple - Diplomat pass, where the VIP participants who were graduates could participate in live meetings on advanced schematopics.
Blue - Studio broadcasts, where participants could watch the broadcasts directly from the studio in crisp HD quality, respond to polls and interact via chat and reactions.
Green - Breakouts, where all participants could participate in various interactive tracks with video meetings, networking and courses.
Interactive breakouts with product review, networking and discussion
The various course leaders and specialists were able to hold interactive breakouts directly in Univid and interact directly with the participants via video meeting via audio and video. Those who did not want to have their camera on, could easily participate via chat, reactions and participate in polls.
These interactive breakouts are made possible with Univid:s functionality for real-time meetings. Thanks to the fact that the meetings can be run natively directly in the platform, and not as a Team or Zoom meeting, the participants can maintain the same event feeling, interaction and context as the large studio broadcasts. This allows participants to easily navigate between the different breakouts: one, in the same beautiful graphic Skola24 theme, and also keep all functionality for interaction - such as sending emojis and reactions, participating in polls, asking questions via chat that they are used to and Univid! In addition, they can thus participate in a high-resolution real-time meeting where they can choose to have on their webcam and / or audio, ask questions via video and network with the other participants in the video call. For the participants who want to, they can of course only have the camera turned off and, as spectators, enjoy a review with screen sharing and awesome course content. on the different screen sharing modes, to switch participants between panel view and grid view, and could even send out some polls during the lecture. It thus became an open, interactive and relaxed environment where participants could introduce themselves via video, and felt invited to ask spontaneous questions during the breakouts, share tips and tricks about how they used Skola24:s platform, discuss and network! p>
Studio broadcasts with a professional vibe
The event involved not only video meetings, but also studio broadcasts with guest speakers, panel discussions, studio hangouts, informative discussions and fun entertainment! The studio broadcasts could easily be coordinated by the event and studio staff at Skola24, where they could easily set up test links to stream to before the event opened and then let everything flow seamlessly during the event days!
The studio switched smoothly between link participants, where among other guest speaker Marika Carlsson was on the link, to elements from physical participants in the studio. With high image quality, a clear graphic profile and feeling with a high level of production, the participants wrote that it felt like watching and participating in a TV production - a nice rating!
p>
Engaging polls - created in advance and ad-hoc
It was really cool to see how the event team at Skola24 had full control of polls and had a real flow in creating relevant polls during the event, based on what the participants discussed in the chat, what was said in the broadcast and creative questions related to Scheduling. It enhanced the event experience for the participants, which was activated continuously even during the studio broadcasts where they did not participate with a webcam and gave a real live feeling!
As a participant, it is unique to feel that you can influence what happens in a broadcast or a larger meeting - and exactly the feeling you want to create in a digital event to maintain commitment and focus. Even actors such as Netlix today offer a number of interactive series and films, where you as a participant can choose how the process is to be played out, depending on the different choices you make. Exactly that feeling was created by Skola24 with its accurate, fun and creative polls that were created continuously during the broadcast and gave so much added value!
Entertaining inspirational lecture with Marika Carlsson
Marika Carlsson is a by Sweden's most current comedians and presenters. A perfect entertainer with a disarming style, energy and a warmth that is felt. Twice nominated for Female Comedian of the Year. In recent years, you have seen her in the Melodifestivalen, Best in Test, the Diggiloo tour and with her own show I am God. Book Marika Carlsson for stand-up, as a fun conference or for an inspirational lecture on prejudice, diversity, self-esteem or body language.
Marika offered an energetic, entertaining and thought-provoking feature that really got the participants started. The audience could ask questions live, cheer on, react with emojis, and give their input to Marika in the chat on Univid!
Feedback from the participants at the event
After three really intense days of events it was so fun to see the participants' feedback - the chat and polls were overwhelmed by positive cheers, and the participants discussed the benefits of a digital meeting, how they wanted to conduct the event next year. Many of the participants wanted more of these types of events - " I would love to get this boost at Univid on more occasions a year "! And expressed that they experienced it as professional with Univid and that they opened their eyes to the platform and the opportunities it provided. In summary, a great fun event with great feedback !!
A wonderful team from Skola24 who offered a mixed content buffet
The team from Skola24 put in a professional way set up the entire event in Univid's platform all by yourself - everything from color theme and wallpapers, pictures of speakers and information about the various broadcasts. It was a rich and consistent experience that breathed Skola24 and quality. This was really reflected in the participants' feedback. In addition, they coordinated all content, with studio broadcasts, live meetings and guest speakers. A real top event that we hope to see again next year! :)
Get started today
Join over 70,000 users and create unique webinars with Univid.
Get the latest webinar hacks