Stockholms Stad hosts large digital celebration event on Univid ✨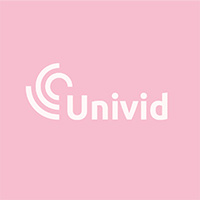 Published: August 30th, 2021
The Labor Market Administration, The City of Stockholm, held a fantastic digital celebration on Friday to celebrate its 10th anniversary. In a professional and beautifully composed event by PS Occasion, up to 1000 participants could take part in a fast-paced agenda - with panel discussions, video greetings and exciting features from link participants who told their story of how much AMF's job meant in their lives and professional careers. A fun quiz competition via Univid and award ceremony rounded off a wonderful digital event and broadcast!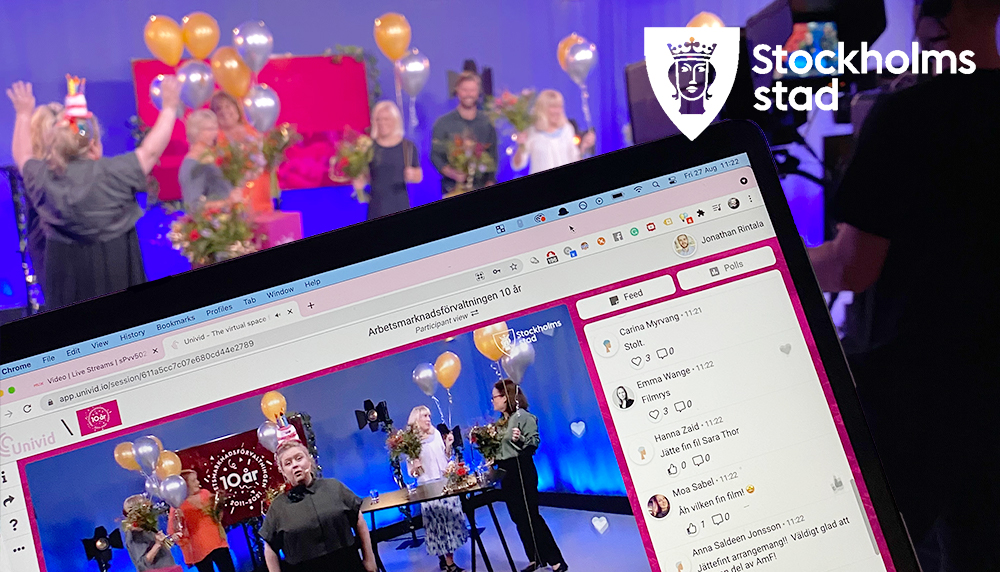 A large digital event with capacity of 1000 participants
The labor market administration hosted an event with up to 1000 participants registered! It was a magical experience in the Univid session! The interaction in the event was really intense - with fun greetings from the participants, a fast-paced flow of reactions and emojis, and wonderful dialogues in the chat, it really became a festive atmosphere. Some highlighting comments from participants in the chat:
Fantastic event, so professional. THANKS!
Many thanks for a very orderly and fun celebration!
Top event, thank you!
Nicely arranged! What a great shipment!
Incredibly nice and nice, thank you!
Wonderfully nicely done! ⭐
Great event !! Very happy to be a part of AMF!
Thank you for a nice and inspiring morning! 😍
Thanks for today. What a fantastically well-arranged party!
So fun to see such a great response from the event participants!
A digital celebration with a graphically beautiful setting
The event celebrated a 10-year anniversary, which placed high demands on a beautiful graphic setting that could easily be adapted to suit the City of Stockholm. With a beautiful background image, the event's consistent colors in purple and white, a splash before the event started and a stylish logo, the event was adapted to meet the high demands on design and graphic profile that were set! With a few keystrokes, the event company was able to design the look of the session itself! The graphic adaptation makes the event really pop and stand out from a regular Zoom meeting and the formal experience that everyone is tired of.
Video greetings from link participants
Through the studio, link participants and video greetings could picked up directly in the live broadcast. Very smooth and in the highest studio quality, the feed was streamed straight out via Univid's platform and gave the participants a seamless and memorable experience. Participants can easily switch between a clean full-screen mode, or enjoy the broadcast along with the flow of chat and reactions that spice up the experience!
Intense and fast-paced quiz competition
The event ended with a fast-paced quiz competition with 7 quick quiz questions where the participants were involved and really got to put their knowledge to the test. A quiz competition is a fun way to both activate the participants and make sure that the message has been clear! The questions were easily created in advance, could be tested and edited, and could then be published one by one, when it was time, during the broadcast. The participants received direct feedback on how they answered, what was the correct answer, and could see anonymous statistics on how others answered in a pie diagram!
Despite really difficult questions, the event participants seemed to have some solid knowledge on the City of Stockholm and about 50 people managed to get all of them right!
Tailored emojis and reactions
A cake emoji 🎂 could easily be chosen for the live session, which gave a personal and fun vibe. The cake emoji was used over 350 times just in the live broadcast itself and was also available to react with in the chat! Participants were also able to respond with a selection of other emojis. Feel free to try creating your own Univid session by creating an account at https://app.univid.io/ and test around a bit what the reactions look like - either yourself or with your team!
About the Labor Market Administration at the City of Stockholm
The Labor Market Administration is part of the City of Stockholm and exists to:
create effective efforts for more Stockholmers to find a job or start studying.
The labor market administration is responsible among other things for the following four areas:
labor market initiatives
adult education in Swedish for immigrants
basic and upper secondary adult education
coordination of holiday jobs for young people
Event organizer with finesse - PS Occasion
One of Sweden's largest event organizer PS Occasion was behind developing many of the entertaining concepts, video greetings, coordination of technology and setup of the event in Univid. Professional and personal with fun video jingle, nice graphic elements and an appreciated timeline of AMF's history that was the event's common thread. A wonderful team that got the schedule, planning and implementation of the live broadcast to flow nicely!
Studio in Stockholm for professional live stream - Pixel Space
The event was broadcasted from Pixel Space studios in Älvsjö, Stockholm. Pixel Space was founded in 2013 and is a group of professionals with a solid technical background that has both own studios and the opportunity to go out and build studios on site - flexible solutions for professional live broadcasts with high quality. Univid has collaborated with Pixel Space at several events with customers such as the City of Stockholm and Facebook.
Get started today
Join over 70,000 users and create unique webinars with Univid.
Get the latest webinar hacks