The dos and don'ts of hosting a memorable webinar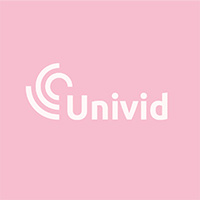 Updated: February 22nd, 2023
Published: July 6th, 2022
A successful webinar will linger on in the minds of your attendees long after the event itself is over, but you may find yourself wondering how you'll capture and keep their attention to ensure it's memorable. Luckily that's one area we are well experienced in as we have helped companies during many years to create interactivity online with our platform Univid! In this article we will go through the do's and don'ts when it comes to hosting a memorable webinar to remember.
The company Xant published a whitepaper that found that 73% of sales and marketing professionals like yourselves and your clients identify webinars as one of the most effective ways to generate quality leads- something we have already covered in one of our previous blog posts, here.
As you know, webinars are multi-hyphenates- their usage can yield many promising results, whether it's as a product or service demo or as an educational tool for existing customers in your client base already. But you may be intimidated by how your webinar can compare to live or in-person events, where guests can't log out or get distracted by other things on their laptop or things like their families at home. This is also why it is imperative to host your webinar during an appropriate date and time, which we go into more detail here.
If you're new to the magical world of webinars, we are here to guide you, in an easy to understand format, complete with the do's and don'ts when it comes to your webinar:
Do - Plan your webinar theme and content with your target audience in mind.
Don't leave it up to chance- use your demographic and market research and aim your theme, speakers and presentation toward those who would actually be of benefit to it.
Don't - Just think of sales when planning your webinar
Remember to contextualize your ideas. Craft a narrative and tell a story with your presentation.It's been proven that people are more receptive to stories that appeal to their humanity, than just having numbers regurgitated at them. Use data that makes a strong, logical case but don't forget to add a human angle that connects the dots emotionally. You can do this by adding case studies or real examples to your presentation. As humans, storytelling is in our blood- from oral folk traditions to books to movies, giving a human touch to your presentation will make it stick in someone's mind, just like a good anecdote they heard at a party or a joke they retell years later.
Do - Draw up a social media marketing strategy
Throwing some random posts online and calling it a day won't do you any favors. You need to be concise and well thought out with your social media strategy- from having a set time each day to ensure you're posting engaging and relevant content that is consistent across your multiple channels, and giving your audience information at a time they can rely on. Social media is your friend- use it.
Don't - Wait too late to promote your webinar or to schedule it too last minute
You'll need to give any potential attendees enough notice to block out their calendars or rearrange existing appointments. Sending out invites to a webinar planned for the next few days is unlikely to yield the audience numbers you desire. We recommend at least two months ahead of time. The further out you plan and advertise, the more people you're bound to attract. Of course, don't forget to schedule reminders for people that don't sign up immediately- you can still keep growing that attendee list.
Do - Contact and choose guest speakers who are experts on the webinar topic/theme
You want to entice attendees to come by having a good itinerary of speakers who they'll be impressed or excited to come and see and speak on the chosen theme- having someone with no background in th theme doesn't make any sense, and will seem amateurish. You want those who you can trust to deliver.
Don't - Forget to choose a variety of speakers
Variety is the spice of life, and will stop your guests getting bored- get people from different backgrounds, companies and levels.
Do - Utilize the platform's abilities to make your webinar stand out and engage your attendees
Most webinar formats only show the speaker in a small frame at the top of the screen – if at all. This means your presentation slides need to work harder to drive engagement. But with Univid, you can customize the look of your webinar, adding fun labels, polls, stickers and custom templates. Find our guides here.
Use imagery, photos and infographics to visualise data. Try to have a least one visual element per slide to break up the text- a picture paints a thousand words after all.Another great technique is to switch between slides and video clips, infographics, images or your own screen for different points you want to explain.
Don't - Present text-heavy slides
In a live presentation, audiences are visually engaged by the body language of the speaker, their facial expressions (although this is still important for a webinar) even the way they walk across the space. In the case of a webinar, sometimes all you have are your PowerPoint slides – so they need to be good.But slides full of texts are hard to digest, understand or remember.
Use bullet points- 5 at a time, and use images, charts, graphics or videos to bring your message to life.
Do - A practice run of your webinar
Just like a dress rehearsal and troubleshoot any technical and timing issues.
Remember, failing to prepare is preparing to fail. And… Last but not least.
Don't - Forget to have fun!
Your audience will enjoy it much more if you're clearly enjoying yourself and passionate about what you're talking about, even if there are some technical or awkward glitches out of your control, being charming, excited and knowledgeable can forgive many other mistakes.
Conclusion
Some things are unavoidable when it comes to any planned event or webinar, especially in the digital space. But if you're prepared, by following these awesome tips above, you can make sure it's a memorable one- for all of the right reasons! Both when it comes to preparing beforehand, handling guest speakers for your event, to the technical rundowns and going live.
Get started today
Join over 70,000 users and create unique webinars with Univid.
Get the latest webinar hacks