Four fantastic days with over 700 events - Almedalen powered by Univid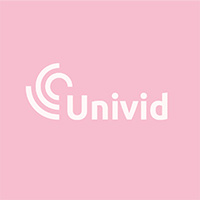 Published: July 9th, 2021
719 events in 4 days, with over 55000 unique visitors and 138979 page views. Let us walk you through the numbers of one of the world's largest political gatherings - this year in a digital format. We will also look into what types of organizers and events that constituted the fair.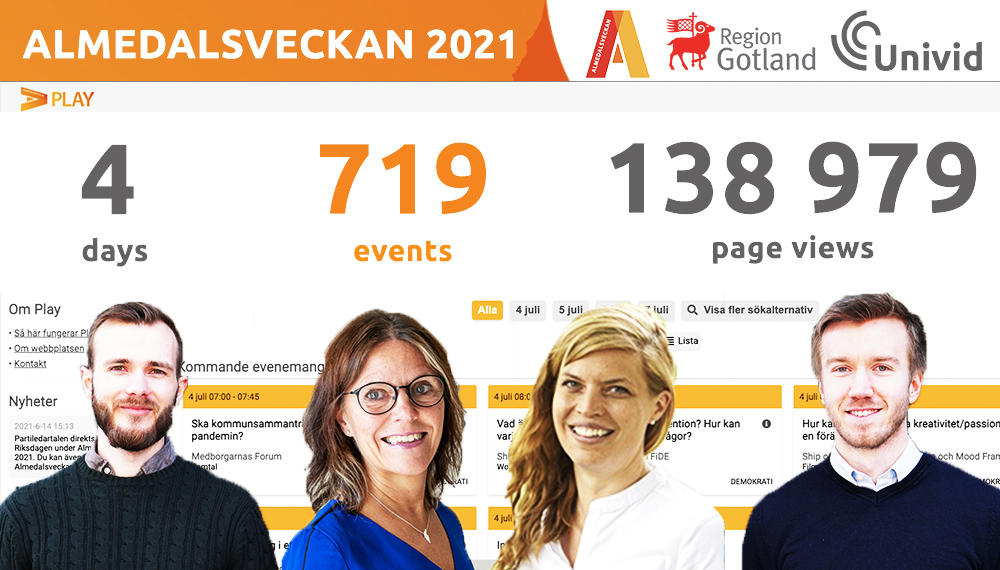 This week the Univid platform powered Almedalsveckan. It was a tremendous success - here are some of the numbers.
A wide range of events - 719 events in 4 days
Almedalen Week is held annually in Visby on Gotland, where representatives of both the Swedish political parties and all kinds of interest groups and companies gather and discuss politics and social issues.
This year it was a four day happening, gathering over 2129 contributors from 400 different organizers across Sweden. The organizers consisted of both high-profile companies such as Microsoft, political organizations, and other actors around Sweden - see the pie chart below for a split on organization type:
26% of organizers were non-profits, 18% businesses, 16% public sector, 15% collaborations between multiple organization types, 11% interest organizations, and 14% others.
Almedalsveckan Play is this year's digital Almedalen - a play platform built on the Univid platform. All events were available in the beautiful discover feed, searchable with quick filters and free text search; allowing visitors to explore all the live events in a simple manner with the visual touch of Gotland, Visby and Almedalen.
See the pie chart below for the split between event types:
35% of events were categorized as seminars or lectures, 26% debates or panel discussions, 20% conversations, and the rest were other types of workshops, networking, speeches, etc.
Solid traffic - 55 161 unique visitors and 138 979 page views
2019 the physical Almedalen Week had about 100 000-120 000 visitors, in a 8 day event. This year, the 4 day digital Almedalen Week gathered over 55 000 visitors and almost 140 000 page views. A great turnout for the digital format, allowing many new people to access the debates, participating in the events from anywhere, or even watching while mowing their lawn in their summer house - like one happy visitor shared on Twitter!
For comparison, Denmark's recent political festival Folkemødet 2021 had 30,000 unique users that visited their entire website folkemødet.dk.
Scalable infrastructure with Univid
Univid is a completely web-based platform with scalable infrastructure. Thus, we can provide a scalable option to a massive event like the Almedalen Week - one of the largest political gatherings of the world. You do not have to choose between reliability and style - with Univid you can get both. With more than 240 events taking place during 8 hours, several days, and over 138,000 pageviews the platform needs to be scalable. Univid is simple and intuitive, yet with a powerful cloud-based infrastructure that truely performs at scale.
Beautiful and interactive sessions with Univid
Amongst many organizers, the British Embassy of Stockholm, Region Gotland, Abilia, and Svensk Sjuksköterskeförening ran their Almedalen events via the Univid interactive sessions. This allowed them to communicate with their audience and offer interaction via emojis, chat, real-time polls and a visual styling in branding and colors!
Region Gotland hosting a live event on Univid during Almedalsveckan 2021
Events accessible on-demand
The live sessions that were recorded are available afterwards on-demand, if you missed them or want to rewatch the content. Go visit and explore the feed Almedalsveckan Play site at: www.almedalsveckanplay.info
Going forward
Team Univid now take a few weeks of summer vacation, celebrating a successful powering of one of the world's largest political gatherings. Demand is really piling up for the fall look forward to a really exciting fall with tons of digital and hybrid events in the pipeline. We wish you a lovely summer!
References:
Get started today
Join over 25,000 users and create unique webinars with Univid.
Get the latest webinar hacks