The best webinar software 2023? Univid gets 6 awards from G2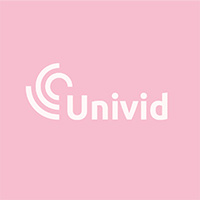 Updated: February 22nd, 2023
Published: December 14th, 2022
Recently, Univid was recognized as a "High Performer" in the Webinar category for G2's Winter 2023 report. Also, Univid was awarded "Best Support", "Easiest To Do Business With" in the Webinar Software category, and received the "Users Love Us" badge.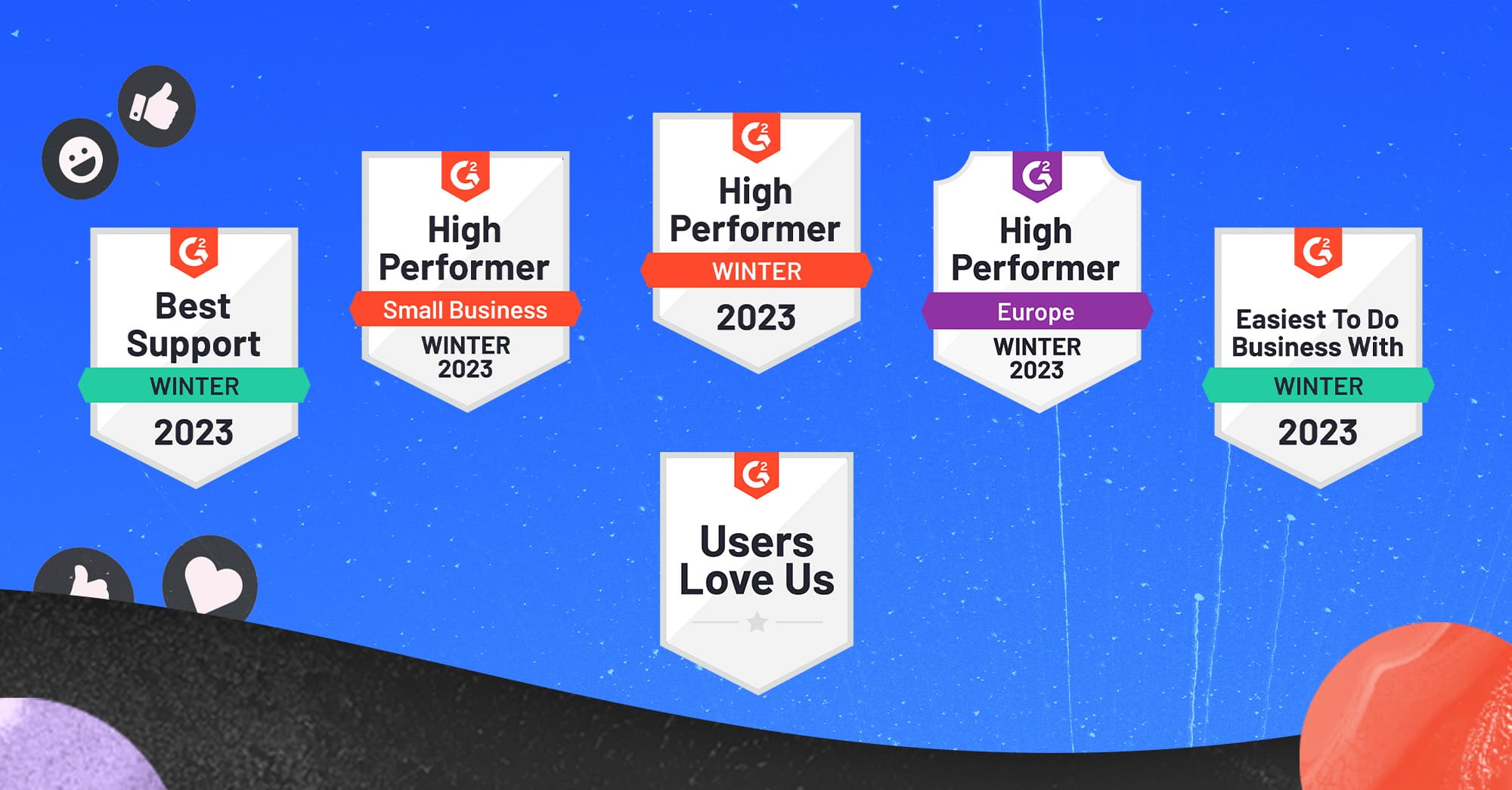 About Univid
Univid, the fast-growing SaaS company, enters 2023 with momentum. Delivering the world's fastest way to create engaging webinars, the future is looking brighter than ever.
G2's Winter 2023 report in the Webinar Category
At Univid, we know that customers today are looking for transparent data and honest feedback data when making a decision to start using a product. The core of Univid is to provide extraordinary experiences of hosting and attending webinars. Users that have a great time using a product will love it and share it with their friends.
This is why Univid is excited to share that, thanks to all of our fantastic customers and their support, our product was awarded with no less than 6 awards in the Winter 2023 report by G2.
Univid was awarded "Best Support", "Easiest To Do Business With" in the Webinar Software category, and additionally received the "Users Love Us" badge.
This means Univid earned the highest 'Quality of Support' rating, the highest 'Ease of Doing Business With' in the Webinar category and have high customer satisfaction scores compared to the rest of the category.
Our users' success is our success. That has always been the core of Univid. That is also why we are beyond excited to see these awards as a receipt of the Univid way of working - hosting webinars should feel effortless, smooth and fun.
Jonathan Rintala, Co-Founder of Univid.
Univid is happy to receive these awards from G2, but also humble about the challenge and hard work ahead, to continue to deliver extraordinary user experiences and webinars. This is just the start.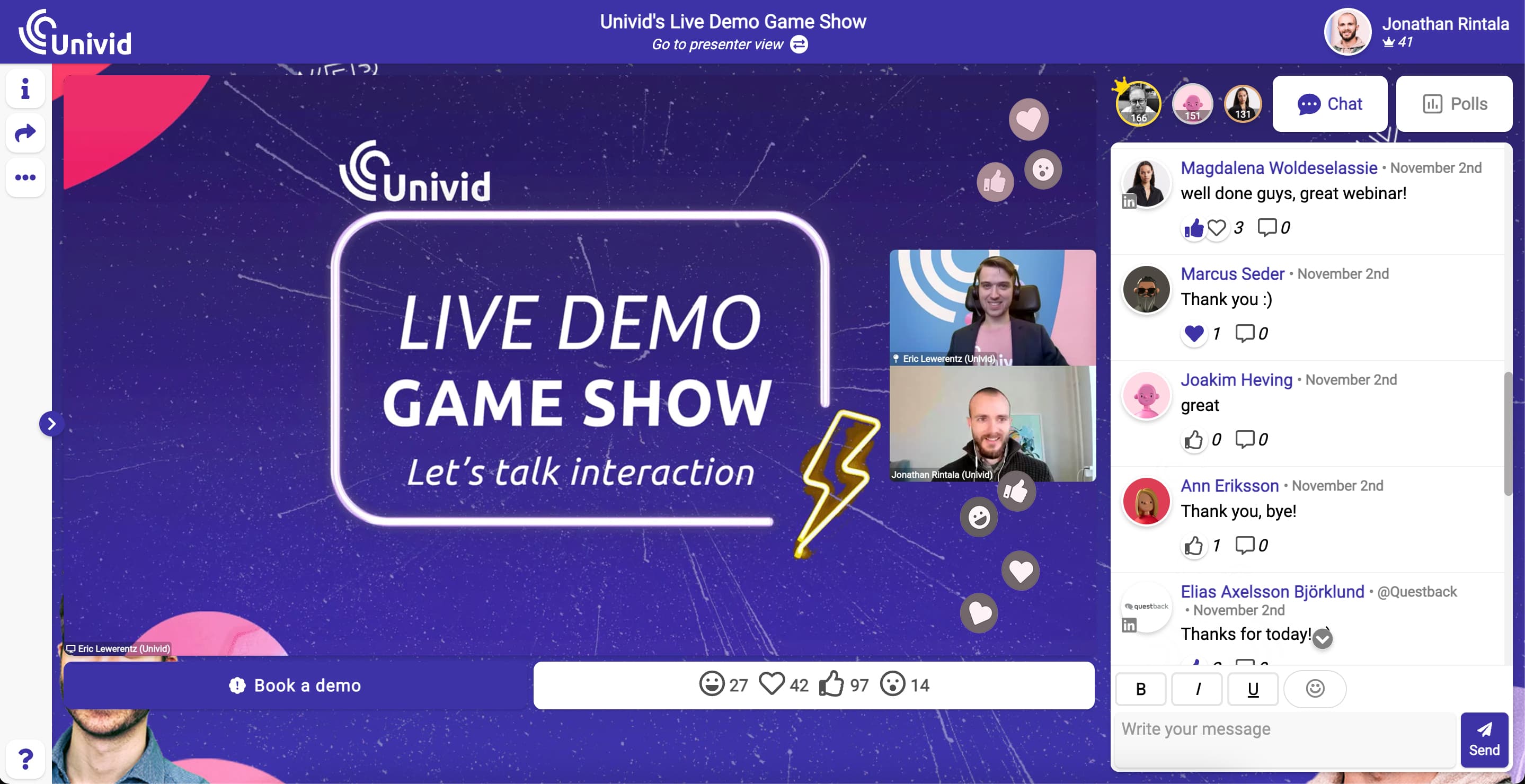 Frequently asked questions (FAQs)
Q: What is webinar software?
Webinar software makes it easy to host webinars and improves outcomes, such as improved ROI and reduced costs. Both when acquiring new leads and upskilling current customers. Webinar software is often associated with virtual conferencing software. However, they are different. Webinars are used for communicating and interacting with a larger audience.
Q: Who uses webinar software?
Webinar software is used by any company seeking to instruct, demonstrate, or educate an audience online. For example, this could be marketing, sales and training events. It is common to work as a team since presentations get more variety and engaging delivery with more than one person involved.
Q: Who should not use webinar software?
If the audience size is small enough and you want a video of all the participants, it might be worth hosting a regular meeting. The goals of webinars are to manage interaction in a one-to-many way. In too small meetings, one might prefer to be able to participate and ask questions via video instead.
Q: What should I look for when choosing webinar software?
When choosing software, look for possibilities to engage your audience, drive conversions, and follow up properly with audience analytics. Hosting a webinar is more than just presenting slides. Depending on how much pre- and post-work you want to outsource to the webinar software - look for lead capture, registration forms, and on-demand capabilities.
Q: How to choose the best webinar software in 2023?
Start with considering - who will be working with the webinar software? Are you hosting alone or involving multiple co-hosts? To maximize your results, make sure everyone involved are comfortable with the software. This enables you spending time on delivering a great webinar experience for the audience benefiting your ROI.
Q: What is the best webinar software 2023 for marketers?
Depending on your strategy, the best webinar software for you can vary. For example, if automated and pre-recorded webinars are your focus area, eWebinar is worth considering. Are you not focusing on branding? Zoom could be a consideration. If you focus on live webinars, ease of use, and interaction, consider Univid.
Q: What webinar equipment setup is best while using webinar software?
The best equipment to use with webinar software is a computer with an internet connection, camera, microphone, and speaker. However, the production quality and ease of use can be improved if you have a stable internet connection, an external computer screen, headset and a camera placed correctly.
About G2
G2 is the world's largest and most trusted software marketplace. More than 80 million people annually - including employees at all Fortune 500 companies, use G2 to make smarter decisions regarding software based on authentic peer reviews.
Thousands of SaaS companies of all sizes are listed on G2 - including companies like Hubspot, Salesforce, and Adobe.
Get started today
Join over 70,000 users and create unique webinars with Univid.
Get the latest webinar hacks