The easy platform for creating interactive and beautiful webinars
Host memorable webinars that engage with Univid. Your solution for creating a beautiful and interactive webinar.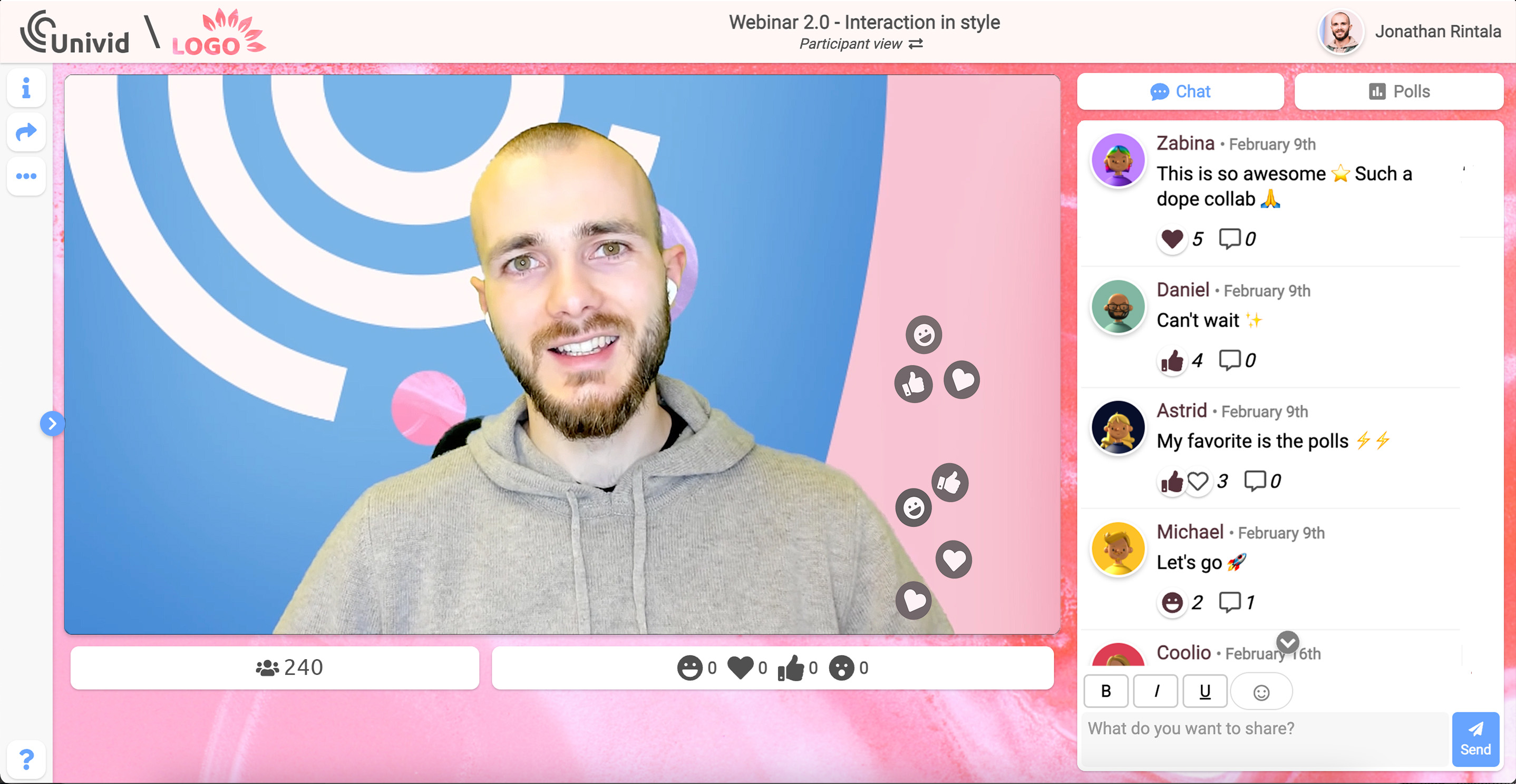 Build a visually beautiful webinar
blazingly fast
✨ Click, drag-and-drop and create your own branded webinar
With Univid you don't have to be technical, nor a graphic designer. Our event spaces can be created with a template in less than 60 seconds - allowing you to create stylish events that impress your audience.
⏱️ Our webinars can be created in less than 60 seconds.
💃 Full control - 1000s of participants or small intimate sessions
Univid can handle all your webinars, whether it's a smaller exclusive session with an invited number of participants, a webinar with a panel, or a completely open event with thousands of viewers shared on social media.
📅 Invite to a webinar with just a link or beautiful calendar invitation
Inviting participants to your webinar is easier than ever. Live can be associated with a lot of stress - we know how it can be and have therefore made Univid really easy. In Univid there is one single link that you share with everyone, either via email or the calendar - you can not go wrong. And you can also create beautiful landing pages!
Memorable interaction that engages
❓ Quiz and polls
Slow webinars without interaction easily get boring. That's why we at Univid have built a number of features to help you easily engage your audience in real-time, or arrange quizzes with a leaderboard where the audience can compete!
💕 Reactions and emojis
Reactions is one of our most beloved interaction features, which really brings your webinars to life. Many of our webinars have thousands of reactions from participants, who can express their feelings in real-time with various emojis.
🕹️ Gamification with points and leaderboard
Gamify your webinars and really create incentives for your audience to interact and stay focused on the content. Our leaderboard where the participants get interactivity scores based on their level of activity really makes sure the audiences stays engaged with your content you improve the quality of the webinar.
Statistics and analytics of the webinar
Measure the outcome of your digital event - what were the highlights of the webinar, which segments got the participants to listen, get involved and be active? Compare with other webinars and benchmark against other actors in the same industry.
Webinars - tips, tricks and insights
Tips for you who will host a webinar or is just interested in the world of webinars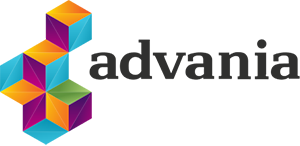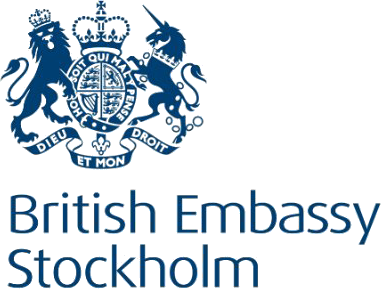 About webinars
According to Google, a webinar is a 'seminar conducted over the Internet.' That webinar definition is true, but a webinar is more than that. A webinar is a seminar, workshop or lecture held online, that most often includes participants being able to discuss and ask questions throughout the session. In English, the term
webinar
is the most commonly used term for this type of session. A one-way lecture online, without interaction, is often classified as a webcast.
Different types of webinars
Webinars come in different forms and can be classified in many different ways, for example based on the theme of the webinar, or what purpose the webinar has. Another common way to group webinars is based on how they are conducted - especially useful for you as a host when choosing your marketing mix, or when running your next series of webinars.
Three common types of webinars are: 1. Live webinars - engaging and exclusive, 2. Automated webinars - streamline your everyday life, and 3. On-demand webinars - play on the participant's terms.
A webinar platform for all your types of webinars
A webinar platform is a must for all types of webinars, especially if you want to maintain a high quality, engage your audience, create unique experiences and get participants to remember you and your company. Univid is the simple platform for creating interactive and beautiful webinars - you can create live webinars, automated or webinars on-demand with Univid sessions. The platform makes it possible to collect unique data, engage the audience through reactions, polls, chat and evaluations, while being packaged in a personal and beautiful design. The platform can also be adapted to your company and brand in less than 60 seconds.
Create your own webinar for free with Univid and try now: app.univid.io.