Design your event and session with a few clicks - Easy and powerful 💅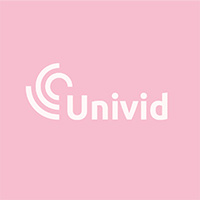 Published: September 13th, 2021
With a range of new themes and features to tailor your event, meeting or webinar, it is now easier than ever to have a beautiful and branded experience. Customize quickly by drag-and-drop your wallpaper and logo into the header, and choose your colors on the header. To get the right feeling, you can also change important details such as sharp or round corners, and color of the text in the event. All without being technical or having advanced knowledge. Become a designer with Univid.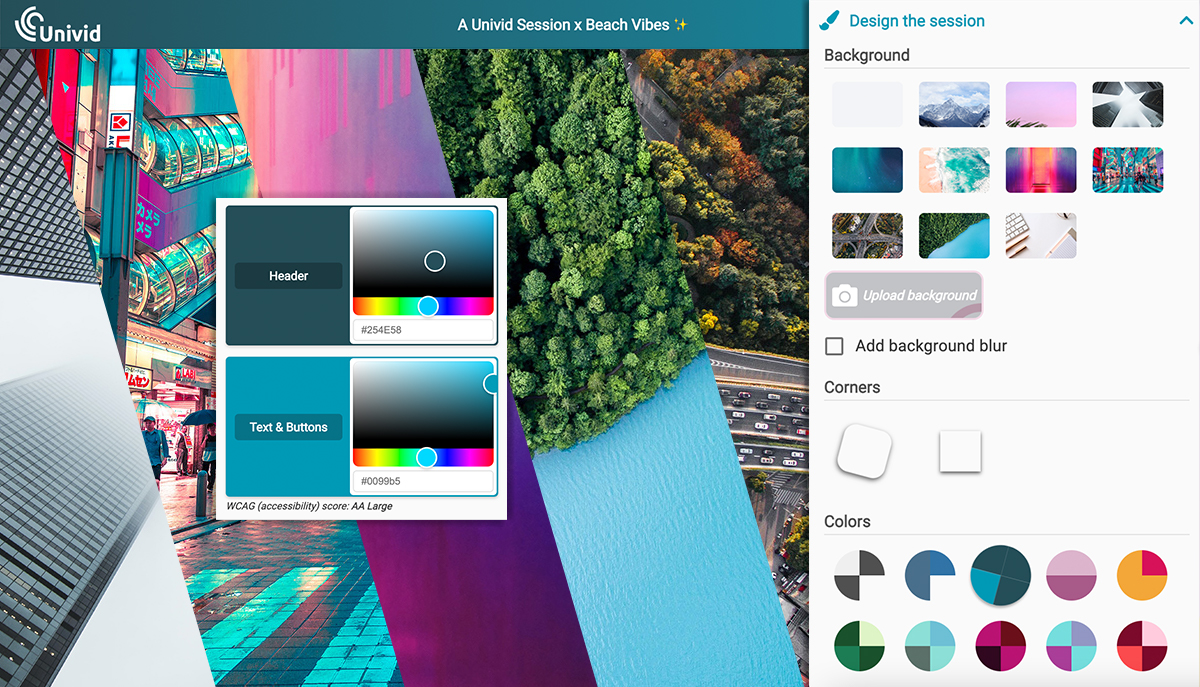 In Univid, you can now more easily than ever adapt and design your event experience. Creating a custom event takes less than 60 seconds. You do not need to be able to code, have design knowledge or be technically skilled. Use one of the stylish predefined themes and templates, or upload your own images, logos and color codes. Draw large brush strokes or adjust at the level of detail.
Customize colors - design your experience
Colors are an important part of an event experience. You can easily click on any of the existing color themes, or through a color picker select the exact color you want. A little color splash is a great way to reduce the formal and boring feeling many people experience in digital meetings and events - a perfect way to attack the zoom fatigue. You can also submit a hex code to get an exact match with your colors. This way, you can get a consistent feel with your company's colors, or other marketing you run. You see in real time what the changes look like and can test yourself until the perfect color scheme!
Change the background image of your event
To get a beautiful, consistent vibe and a unique look, you can adjust the background image you have in the session. Here you can easily and quickly browse a library of the beautiful backgrounds that already exist in Univid, or upload your very own background. Test around with the predefined backgrounds, or drag and drop the background you want, and you will also get a live preview of what it looks like. You can easily enable background blur, ie. blur in the background, to make the video and the content of the event pop a little extra! Nice if you have a background where alot is going on. The background also follows to the login page and the waiting room before you open the event, where the participants get a wonderful and visually beautiful intro. All changes with wallpaper and theme are made in the sidebar that you can easily access from your session.
Enter your logo for a branded session
Create a branded event, webinar or meeting by entering your specific company logo in the header. The same applies here as for wallpaper - drag-and-drop, or choose from your files! A nice way to get your session branded and personal, so the participants recognize themselves and see clearly who the sender of the session is.
Choose details - create a unique feeling
A formal business look for a board meeting or workshop, or a soft and relaxed vibe for your next AW - you choose. Univid is adaptable down to the smallest details and you can easily get the right feeling for your event. By choosing between a more formal look with hard edges, or running with Univid's default, with softer corners and a more casual feel. See below for inspiration on how to customize two events and sessions.
Univid waiting room with formal business look and sharp corners
Univid session with formal business look and sharp corners
Univid session with a relaxed vibe and soft corners
Univid waiting room with a relaxed vibe and soft corners
Test for yourself - get started with Univid
So you do not have to be a designer to have your next event , webinar or meeting really nice. Get started right away with Univid by creating a session with up to 45 people, limited to 30 minutes, completely free! A perfect way to test with your team or project team before your next event. Or just try running your weekly meetings directly in Univid! Get started on:
app.univid.io
Get started today
Join over 70,000 users and create unique webinars with Univid.
Get the latest webinar hacks