Livestream without latency - 1s ultra-low latency streaming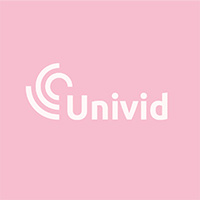 Published: December 20th, 2021
Large-scale live broadcasts to thousands of participants with a 1 second delay directly in the browser - does that sound too good to be true? With the ultra-low latency mode in Univid, it is now a push of a button away, in the same beautiful and interactive session as before. Perfect for livestreaming with interaction, hybrid broadcasts and other things that require lightning-fast delivery in high quality to many viewers.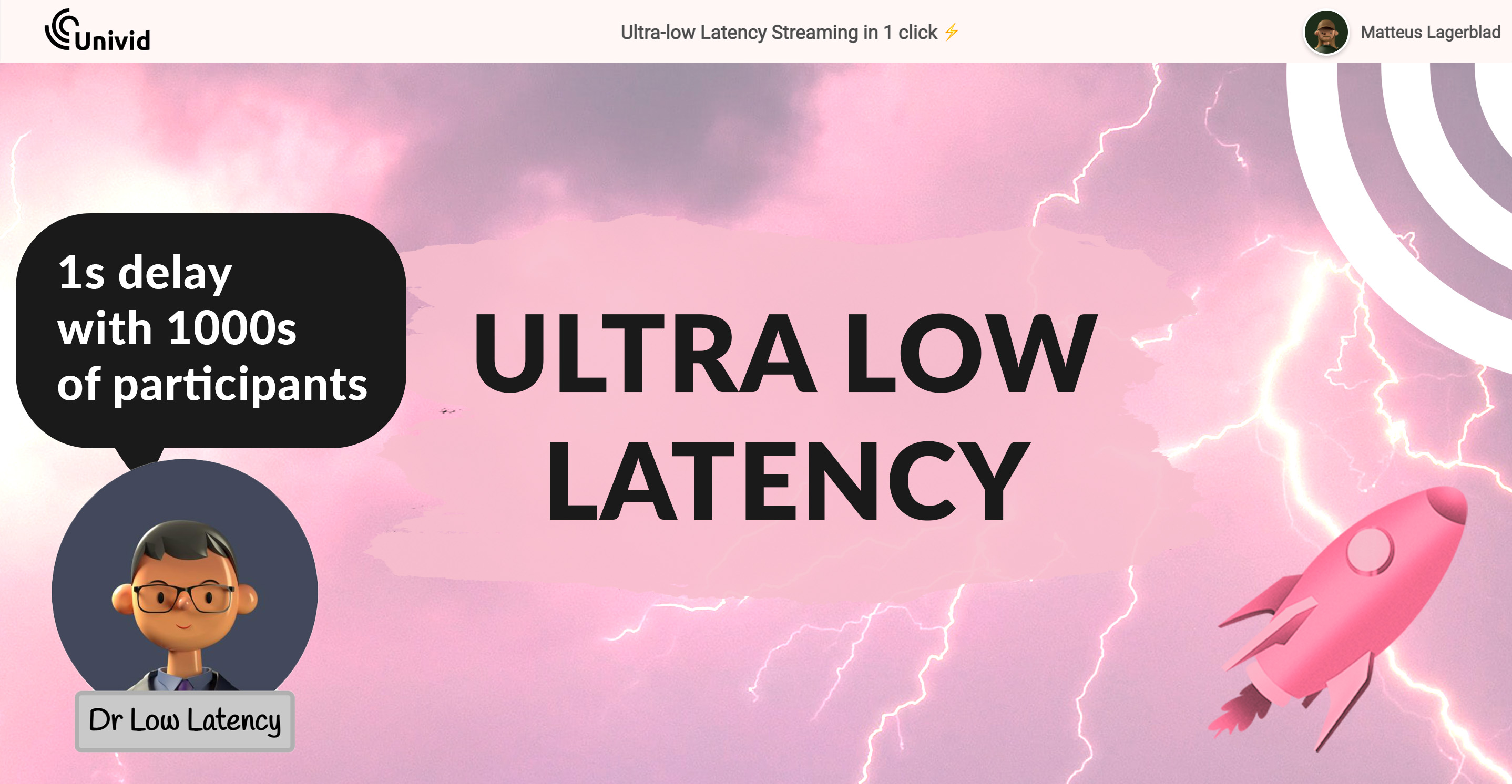 Lightning fast, a push of a button away - live stream with ultra low-latency in Univid
For you who just want to dive directly into how you stream with really low delay to many viewers, and in superb quality? Well, that's a push of a button in Univid 's session. Lightning fast streaming and as smooth as usual. See below how you as a host, easily set which delay you want and then create your key to start live stream with 1 second delay. Test it yourself by creating your free account directly at app.univid.io and then email hello@univid.io and we will upgrade your account to test.
p>
Live broadcast and delay (latency)
Usually you stream livestream with a latency of 7-45 seconds, which makes it possible to have stable live broadcasts to large numbers of viewers. However, the latency often poses challenges when it comes to interaction, where you need to think about the delay when the participants have to answer polls, write questions in the chat, or other elements that require feedback from the viewers.
Traditional live broadcast takes place via protocol as HLS (HTTP Live Streaming) is delivered with a 30-45 second delay. Low latency streaming is usually defined as around 7 seconds, which is also the delay TV broadcasts usually have. Often, so-called low latency is enough to broadcast live, but when it comes to broadcasts that will engage the audience - it is important to really push the boundaries to create unique and good experiences.
The common types of latency and its definition follows below:
Legacy: 20-45 + seconds delay - acceptable for most social media and regular linear TV.
Reduced latency: 5-20 seconds - matches traditional cable TV with delay around 5-8 seconds. Common in e-sports.
Low latency: 3-7 seconds - good for larger sports and live events, where a second screen should be used for watching.
Ultra-low latency: <= 1 second - suitable for very interactive live broadcasts and entertainment where the audience is to be engaged. Also e.g. online casino and betting require this low delay.
Real time: <= 500ms - suitable for video conferencing and the like where you need to be able to have two-way communication and conversation, without it getting weird or talking to each other .
What is ultra low latency streaming?
Ultra low latency streaming is about a delay of approx. 1 second and is best suited for very interactive live broadcasts. A really low delay out to the viewers makes ultra low latency streaming perfect for applications where you have to live chat, send out polls and activate the participants in different ways. This type of streaming is also used for live betting and online casinos.
Univid also supports real-time meetings via WebRTC for up to 300 participants, which are regular video meetings without delay that can be used for webinars, panel discussions or the like. But this new setting - ultra low latency, makes it possible to also broadcast live to several thousand participants in high quality in the same session, and at the same time maintain opportunities for smooth and good interaction with the participants.
To broadcast live via RTMP with your own studio or via OBS
To set up your ultra low latency stream in Univid, press a button to generate your key and streaming URL. Then you can easily copy-and-paste these into your studio tool for streaming - maybe you run Vmix or OBS? Often there is a custom RTMP option where you can paste these two text strings. Everything just like a traditional live broadcast. Done with it? Nice, now you are good-to-go and can start broadcasting live with ultra-low latency to Univid's session!
If you prefer to run everything directly in the browser, you can use Univid's own virtual studio, which will be launched in early 2022. Here you will directly in the session be able to pick up participants and send to thousands of people in high quality, and Engage your audience in chats, polls and reactions just as usual. Guaranteed the smoothest hosting experience on the market. Email jrintala@univid.io and we'll tell you more and you can get a beta access up and running already now!
Get started today
Join over 70,000 users and create unique webinars with Univid.
Get the latest webinar hacks