Host your own video meeting with Univid, for free!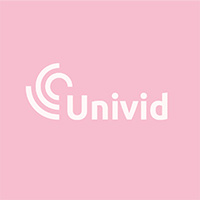 Published: August 26th, 2021
Univid is now opening up the platform to create smaller sessions for up to 45 people for free and limited to 30 minutes per session. So you can try the platform with your team or friends, customize your own session with beautiful colors and themes, publish polls and hold magical meetings that impress. Now it's easier than ever to try out and get started with Univid!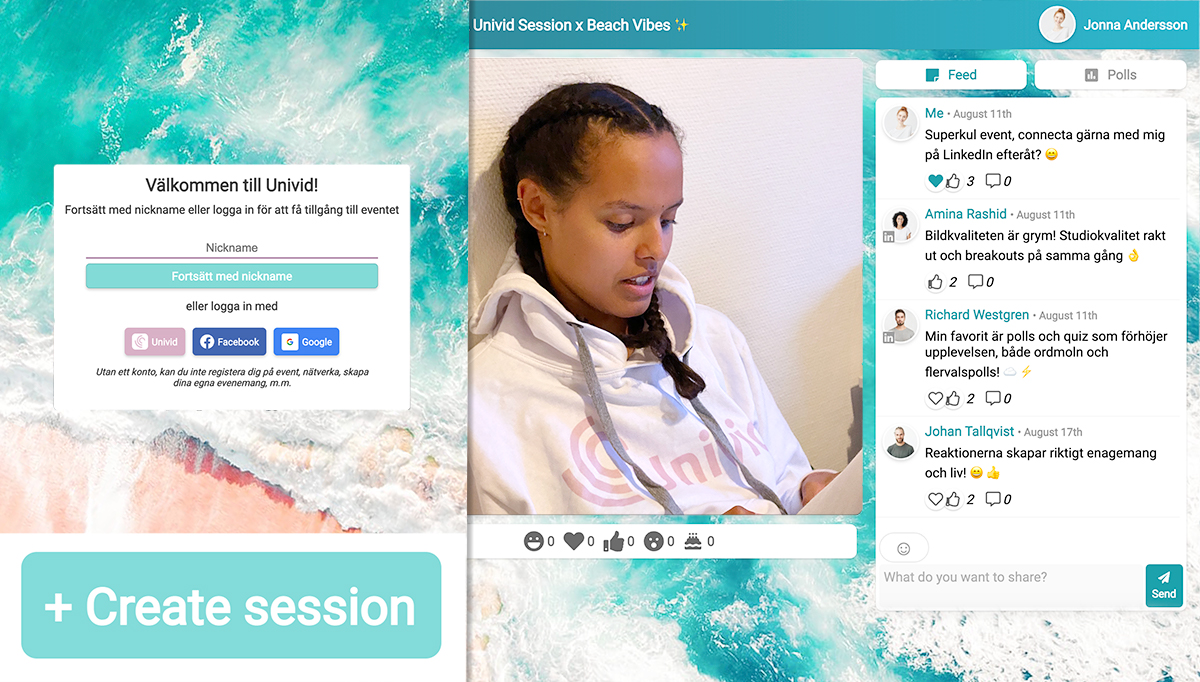 Host a free video meeting for up to 45 people
Now you as an individual, team or company can easily get started with Univid! You can test a video meeting in awesome quality with up to 45 people for a full 30 minutes per session. In your video meeting, you can test all functionality except studio broadcast via RTMP, for which you can contact Univid. Also contact us below if you want to run a longer session or with more than 45 people!
Here you can go to Univid to create your account and get started with your first session, press login in the top right corner, create your account and then tap create session:
5 exciting features to test during the video meeting
Below is a selection of the exciting features we recommend you check out when you kick start your Univid session and video conference.
1. Graphic customization of video meeting
A Univid session can be graphically adapted to a beautiful experience with a few clicks. In the sidebar you can easily change the background image, header colors, text colors. Choose one of the default templates or upload your own material. In the header you can also drag and drop your company logo for a branded session! In addition, you can enter a description of the session in the upper left of the sidebar, along with a picture and name of the event or meeting speaker. A little inspiration below with a magical summer vibe that eliminates everything called zoom fatigue.
2. Reactions and emojis
During your video conference, you and your participants can react to the content or give direct feedback, not just by turning on your camera, or typing in the chat. You can also react by clicking on any of the emojis found beneath the video window - for example, a happy smiley, heart or surprised smiley. An easy and fun way to give direct feedback and spice up the video meeting with some fun dynamics!
3. Engaging polls and quizzes
Skip a third-party application and run Mentometer features directly in Univid! Here you can easily send a fun poll or compete with quizzes and quizzes. Activate your meeting participants with a word cloud or run a fun music quiz! 🎵 Create polls before or during your video conference and then select when you 1. publish polls to participants 2. show the answers to the participants. A tip is to reveal the answers directly, and the participants will receive the statistics (anonymously) after they have answered the poll themselves, which will be a fun effect where the graph grows in real time!
4. Light and fresh chat
The chat in Univid is made to be fresh, nice and easy. Here you can chat with other participants or moderators, ask questions and respond to various posts! It's easy to see which posts are popular in the chat, and even when there are 40-50 participants, there is a wonderful continuous flow of messages, questions and input. No more boring, slow and dead chats!
5. Breakouts - Random, selected by participants or controlled by the administrator
When you run a video meeting in Univid, it is possible to easily start breakout sessions. In the menu, you can create your various breakouts and then send out specific participants in different rooms. The rooms are automatically named after capitals. You can choose to drag-and-drop different participants in the different rooms or send them out randomly in even numbers of participants per room. In addition, you can let the participants themselves jump between the different rooms - which is perfect for networking where you want to let the participants mingle freely during the video meeting in small groups!
Do you have questions about how to get started with a larger event, webinar or video meeting at Univid?
We are happy to tell you more about how to run a longer or larger video meeting, webinar or event in Univid. We are happy to take a demo and dive a little into functions or show how easy it is to run a studio broadcast on the platform.
We love to get input and feedback on which usage cases you have, which functions you lack in your digital everyday of video meetings and feedback on all responses within a few days.
Contact us below and we will tell you more!
Get started today
Join over 70,000 users and create unique webinars with Univid.
Get the latest webinar hacks