How to host the perfect digital webinar Q&A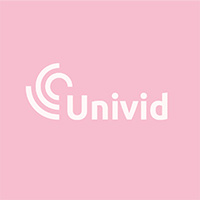 Updated: August 22nd, 2023
Published: April 13th, 2022
A Q&A section is a fantastic way to involve your webinar attendees and provide answers to burning questions. Here are tips on how to create a successful with lots of engagement.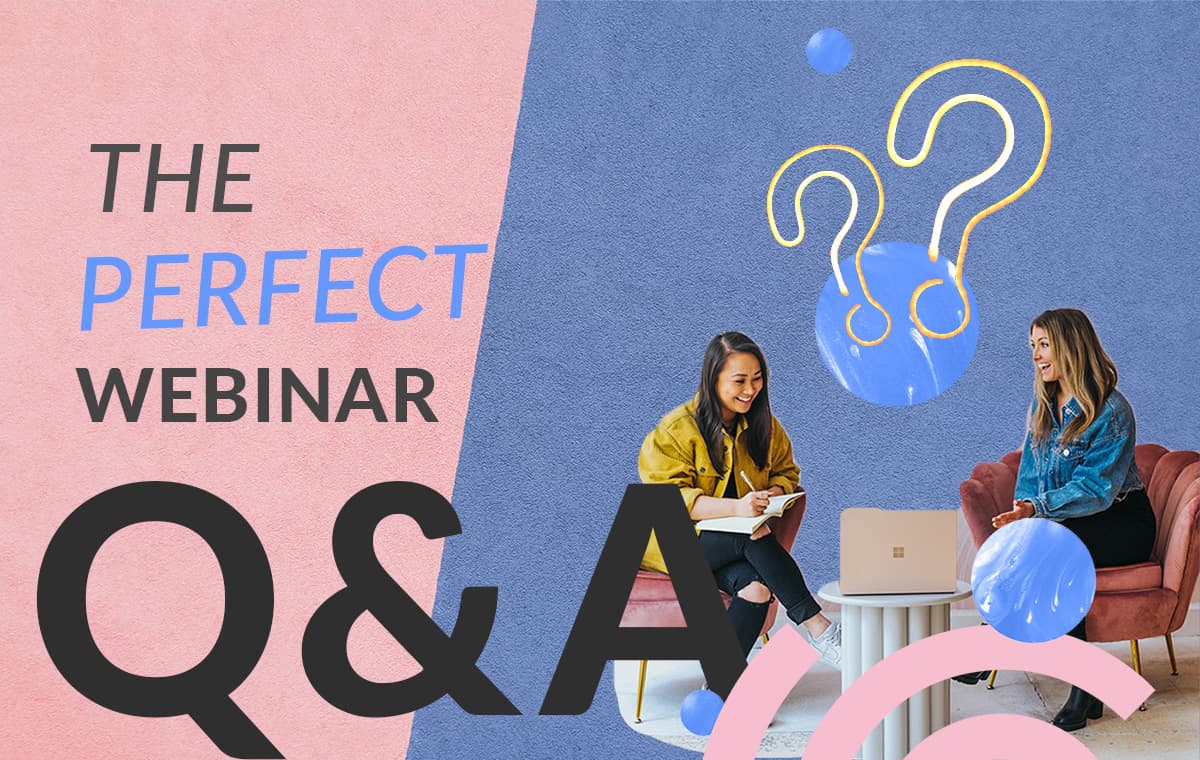 If you're hosting a digital event or webinar soon, you might wonder how you can foster the type of interaction that drives new ideas, invaluable insights, fresh content, and ultimately new leads impressed by your business?
A Q&A is one of the core components to make this happen!
What is a Q&A - in the context of webinars?
A Q&A stands for 'questions and answers'. It gives the audience the possibility to get answers to their questions by the panelists. In the bigger picture it is also a way to make the webinar audience feel inspired and included in a webinar, allowing them to interact with the host or guest speaker.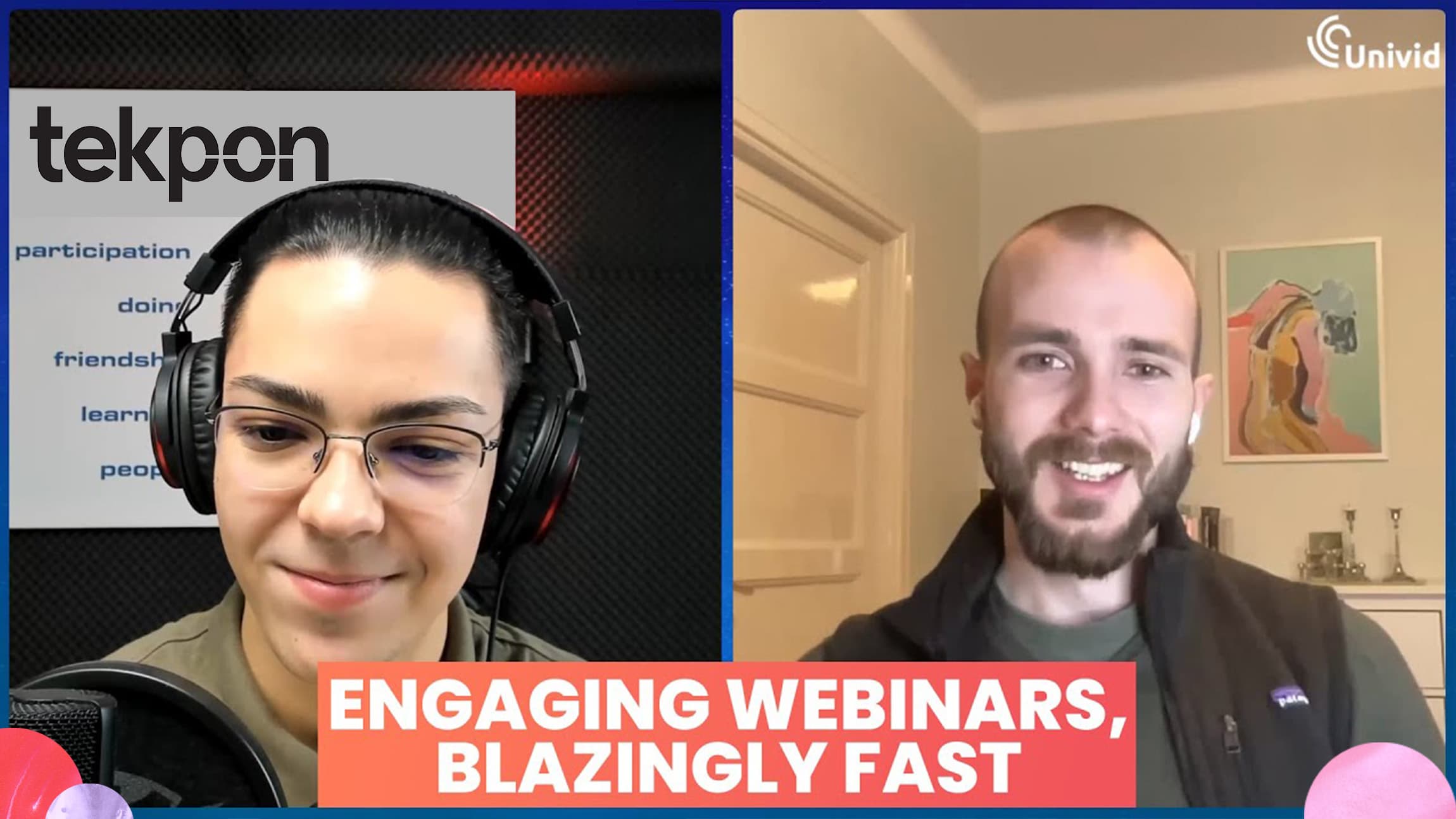 We've all been to those Q&A's in real life, usually after some kind of event like a film, lecture or talk by someone we admire.
The inevitable post-discussion rears its head, when the mic is handed to the audience, and we know what's coming: either the groan from the audience ("it's more of a comment than a question" style audience members) or someone asks a question which elicits that rare response from the person/celebrity being interviewed ("that's a good question!").
Obviously, you want your webinar's Q&A to be the kind that falls into the latter category.
Hosting a Q&A means lots of valuable customer insights
Also, a Q&A is a great way for you as a company to gather tons of valuable information and insights into your customers and their minds - what parts of your offer is not clear enough, what parts of the product are your users struggling with? By looking through their questions - you get answers:
What are their current pains?

What things are they worried about?

Which macro trends are they interested in?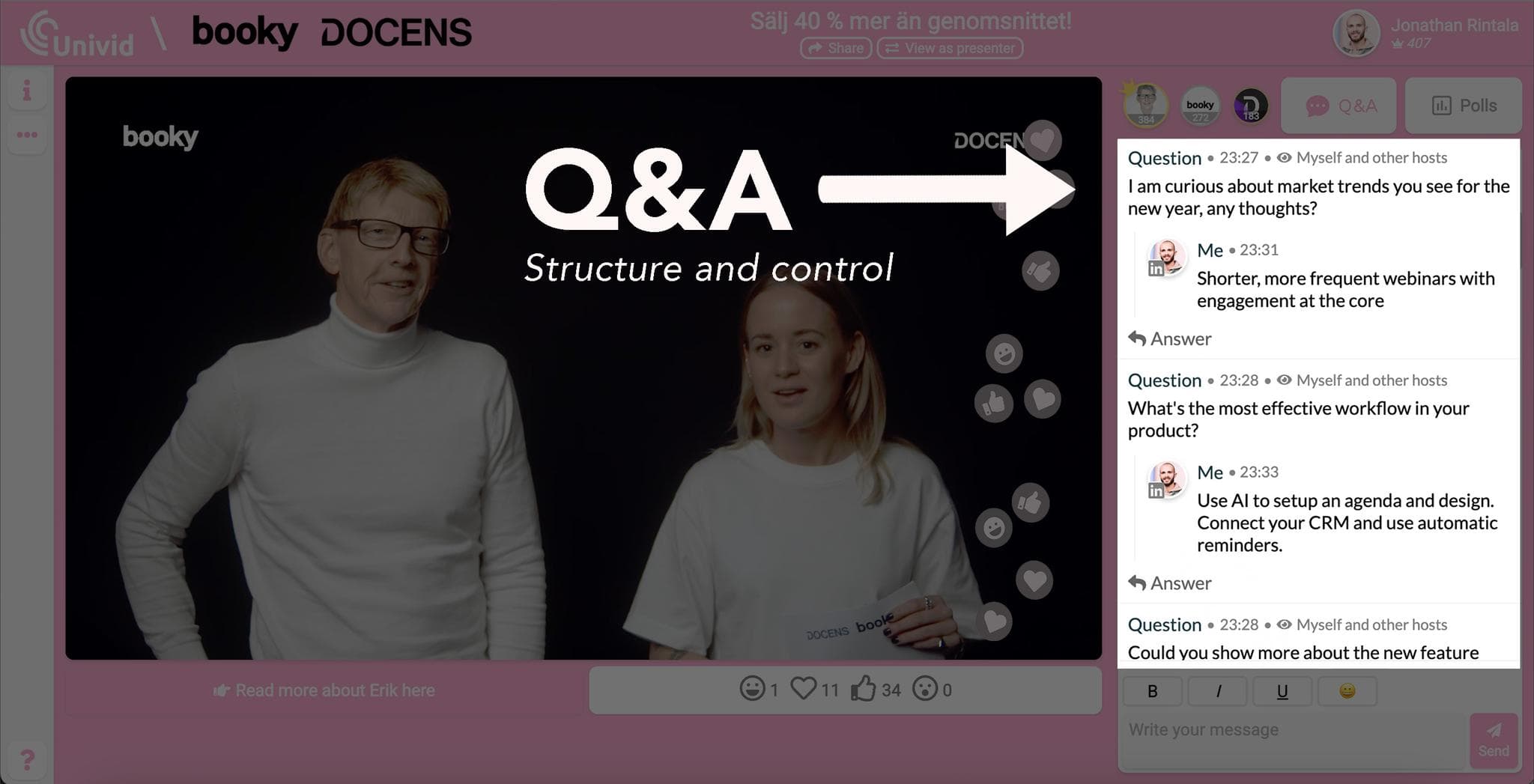 But what makes a Q&A stand out in the digital realm? 
You may be eager to host a digital Q&A at the end of your webinar, to further bring participants and speakers together and add something that makes your event stand out for participants afterwards.
But believe it or not, there are many differences between what makes a good Q&A in real life and online. Online etiquette differs from the real world, and there are all kinds of other varying factors to think of.
Here are our top tips to ensure your amazing webinar doesn't get overshadowed by any faux pas's that may arise!
1. Prepare, prepare, prepare
This goes without saying, but if you're hosting the Q&A, making sure you have a list of your questions memorised beforehand is key. Knowing your guest and audience demographic will go a long way in making sure you know which questions will garner responses that will interest people the most.
If you have previous successful (or not so successful) webinars to look back at - do it! You can learn a ton. See what responses you got, who signed up, what people answered in your polls, and when in the time line questions came in - what did you say to trigger a question?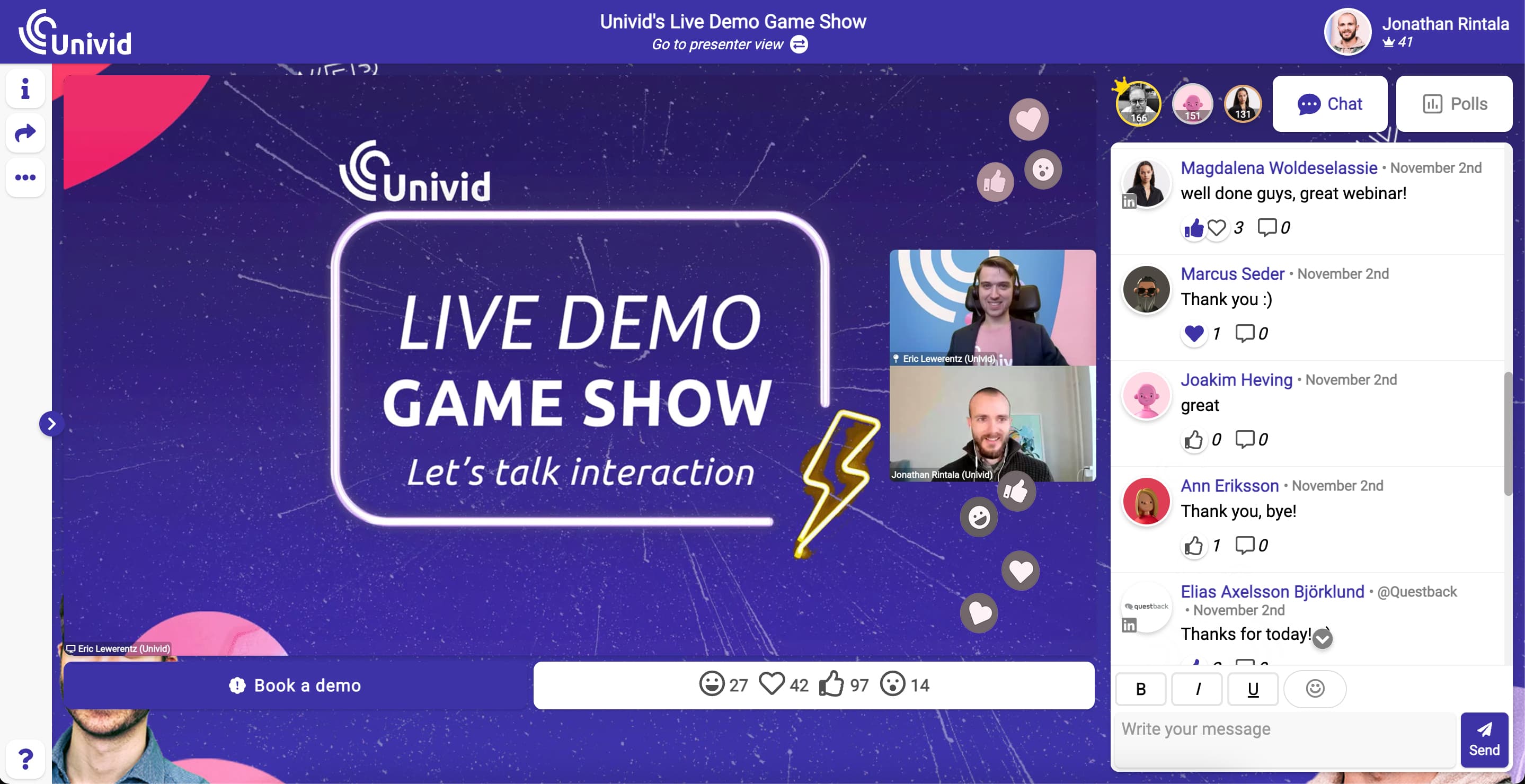 It is vital to have a list of back-up questions if the Q&A doesn't go down the route you expected. Ask a colleague to send these in at the beginning of the Q&A to give inspiration and set some examples of what to ask - and you will see a ton of questions follow.
This is also good in the awkward (and rare) event that you don't get as many questions from participants as you expected.
2. No technical difficulties on the day, please
Have a test-run through your webinar platform and ensure that you know how everything works. There's nothing worse than a microphone that doesn't work or a camera that is shut off on your own system preferences. Make sure things run smoothly ahead of time! And choose a solid tool to run your webinar Q&A on.. looking at you Univid 👀
Use our free tool to test your livestream here.
3. Promote your Q&A before the webinar goes live - use LinkedIn and socials
If you spring your Q&A session on the audience at the last minute, then it is inevitable that nobody may ask a question.
Ensure you promote both your webinar and Q&A session as soon as possible, so that attendees have time to prepare any questions they may have, rather than scrambling to think of something on the day.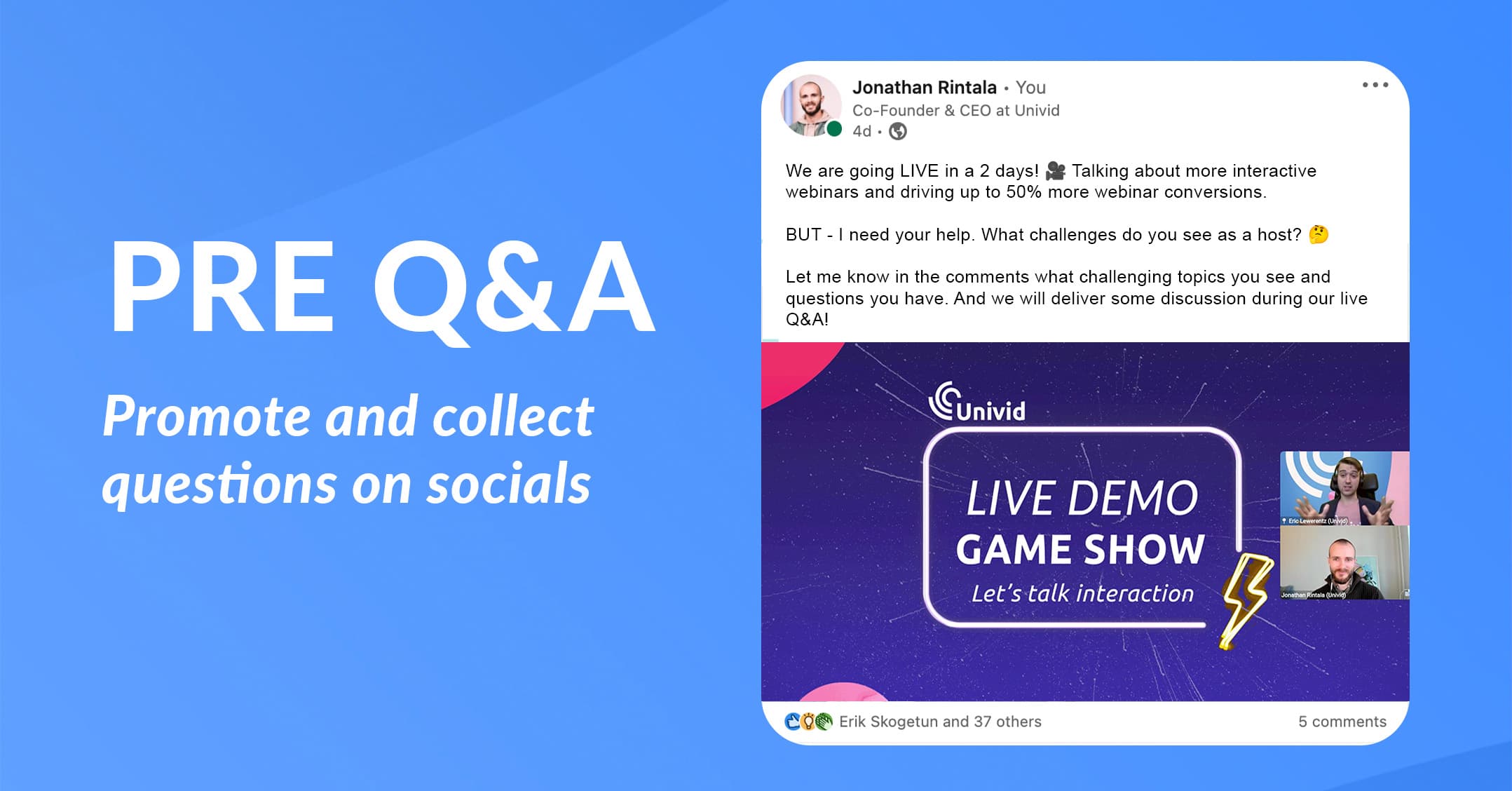 If you want the Q&A to inspire debate and an open discussion, giving attendees a heads up will increase the likelihood of this happening.
You can promote the Q&A on the social media pages of your company, and on your website landing page, so that those signing up on your registration page or clicking on the LinkedIn ad will have a heads up. Having a Q&A is a great selling point for your webinar. Psst.. the superhosts make sure to get other people in their orgs involved to get organic reach! More on that in our 101 guide to marketing your webinar.
Also a great way is to collect questions PRIOR to the event going live - ask in your LI feed what people are excited about, or what they wonder - and incorporate these into your webinar.
4. Bringing up the right questions..
Choosing the right questions can make or break a Q&A. Prioritize open questions when choosing what to bring up from the Questions And Answers section, as you want to feed a discussion amongst the panelists.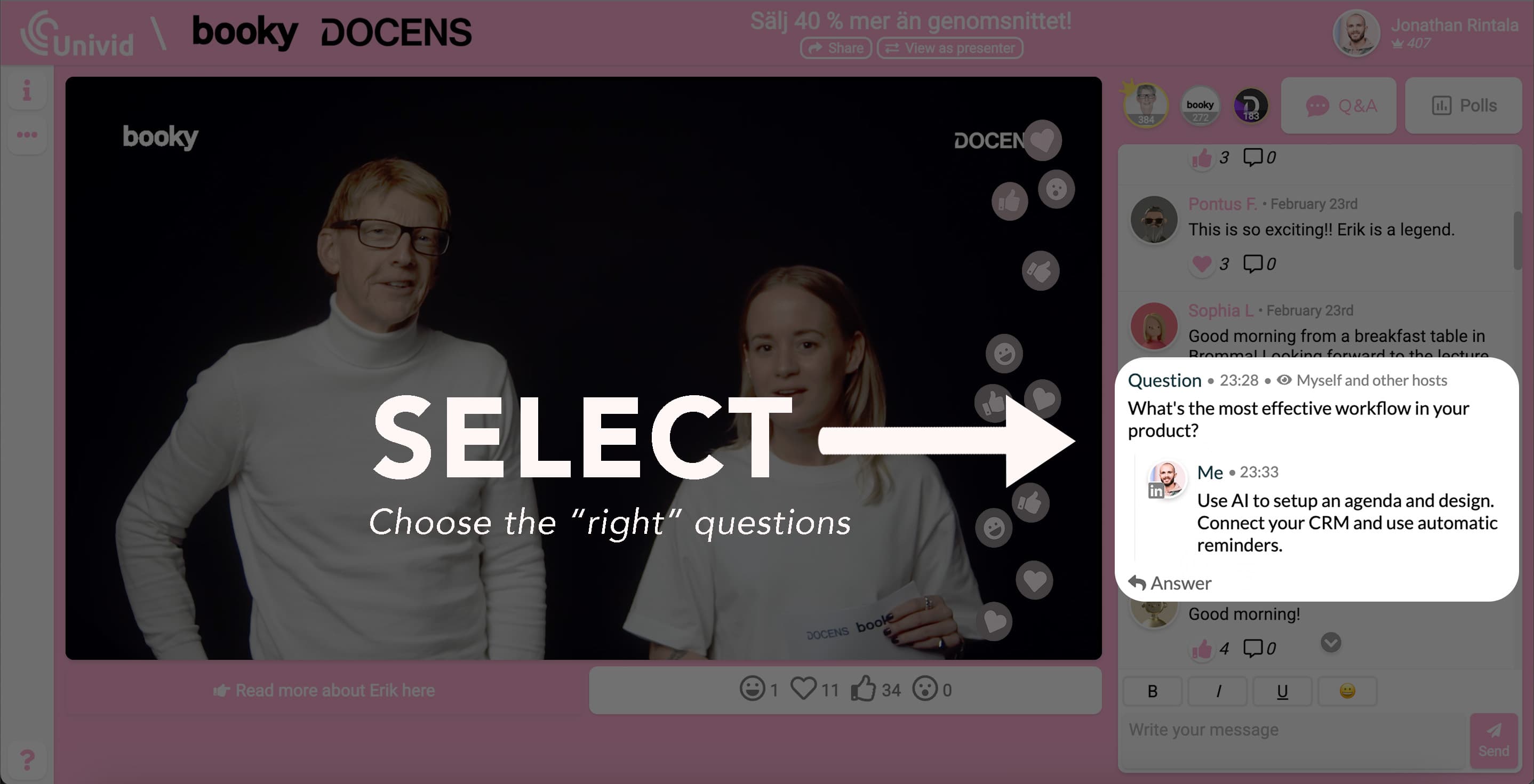 Controversial questions might be good to leave out, but you want to bring up questions around hot topics and trends - so no worries that there are multiple opinions on them and they might be spark some heated discussion.
Tip: Make sure you have tool where you have control over if questions are default visible or not, and preferably where you can decide to show questions as well - to inspire, set examples and create that feeling of interaction.

Don't stick to things which will only generate 'yes/no' answers - or help reformulate to make sure answers don't fall short.
You want your Q&A to take the participants on a journey to which they can be included, and so questions which uplift, generation ideas, or challenge the audience are best. Even a slight change in the wording of the questions you bring up, can make a huge difference in the type of answer you receive, so keep this in mind.
With our tips, the digital Q&A will be a nice value-add to your already awesome webinar - making it even more memorable and successful. Looking forward to see all of your exciting Q&A:s out there!
Get started today
Join over 70,000 users and create unique webinars with Univid.
Get the latest webinar hacks