Webinars with Alexander Pärleros and Framgångsakademin ❤️ Univid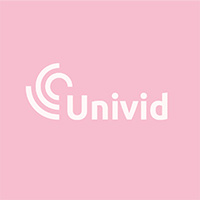 Updated: February 22nd, 2023
Published: March 24th, 2021
Alexander Pärleros - founder of Framgångskademin and Framgångspodden - the biggest podcast of Scandinavia shares his thoughts on webinars on the event platform Univid. In a webinar series Bingo Rimér, Isabella Löwengrip, Fredrik Reinfeldt, and others will speak.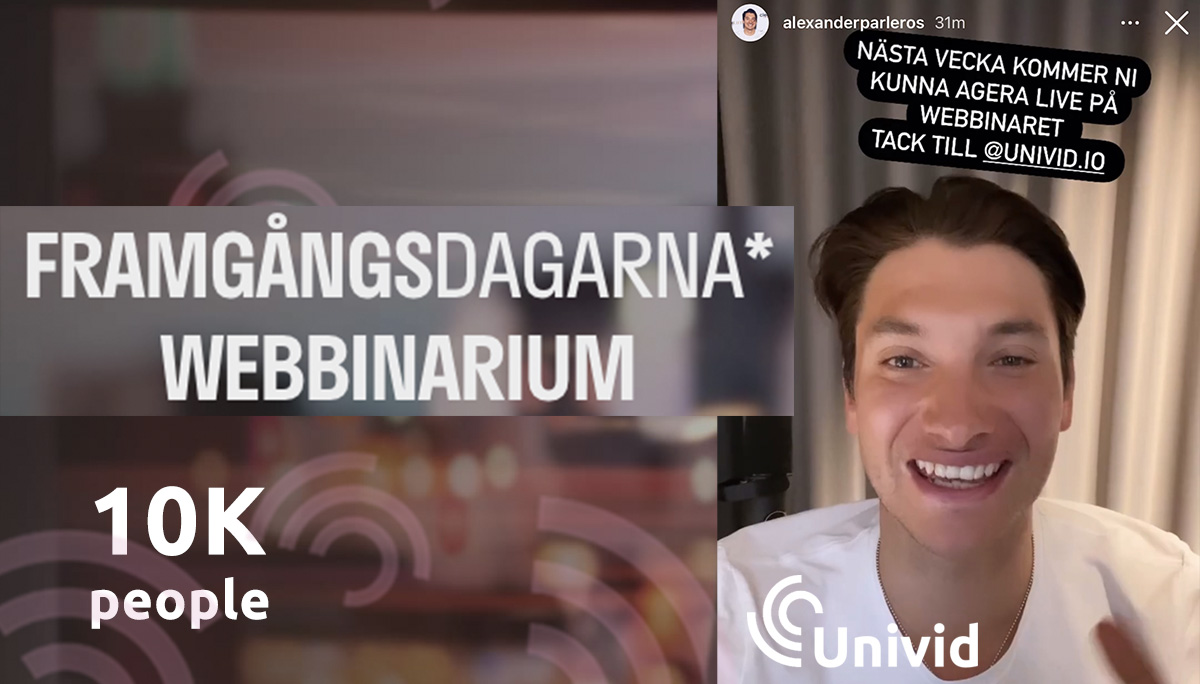 What is Framgångsakademin?
Alexander Pärleros, founder of the largest podcast in Scandinavia - The Success Podcast, has launched an exclusive collection of online courses in the form of the Framgångsakademin. With both webinars and on-demand courses, it is a good collection of knowledge to learn from and develop with. An academy for success simply. Lecturers at the academy involve well-known entrepreneurs, influencers, rhetoricians and salespeople.
What are the Success Days?
In March 2021, Framgångsakademin will hold a huge series of webinars at Univid , with over 10,000 participants and great speakers such as former City Minister Fredrik Reinfeldt, Kjell Enhager and Kristin Kasperssen, awesome personalities such as Babben Larsson and Joe Labero, top entrepreneurs such as Isabella Löwengrip, Konrad Bergström, Ash Pournouri, and Bingo Rimer.
What are webinars?
Webinars (from the English webinar) are presentations, seminars, workshops or lectures in video format that are done online. Webinars are usually broadcast live or in real time, but they can also be pre-recorded and broadcast as if they were live, or available on-demand so participants can register to take part in them.
Webinars are a bit as a mix between a traditional live broadcast and regular video meetings. Webinars can be broadcast either from a real studio or as a meeting with the webcam. It is often clear who the presenter is, there is room to improvise and pick in participants from the audience.
Interaction that allows participants to participate, ask questions, chat and collaborate with the presenters is an extremely important part of the webinar ; which both makes them memorable and increases the conversion rate! This was a particularly important factor when the Framgångsakademin chose the platform for its webinars in the Success Days.
Isabella Löwengrip holds inspiring webinars
Isabella's Löwengrip is an entrepreneur, lecturer and influencer, whose journey started when she moved away from home as a 14-year-old and created her blog under the alias 'Blondinbella'. As a pioneer, she built what is today the Nordic region's largest platform with 1.5 million followers worldwide. Isabella Löwengrip talks in the webinar about how to succeed as an entrepreneur, succeed, and take your idea to reality!
Bingo Rimér in an entertaining webinar
Bingo Rimér is a well-known photographer, one of Sweden's most famous, who has photographed artists such as Victoria Silverstedt and Carolina Gynning. With a broad knowledge of photography, Bingo Rimér talks in its webinar about how to take the perfect picture, set the right light, find inspiration, make money in the photography profession and build your brand. An event that really encourages and inspires!
The Framgångsakademins's choice of platform for webinars
Previously, the Framgångsakademin ran its digital webinars on Vimeo. This year it will look completely different - with Univid's opportunities to interact directly with the speakers, create a pleasant atmosphere during the webinars with live polls and reactions, and arrange competitions among the participants. This means that the Success Days 2021 will be a memorable digital experience that will be long forgotten. Team Univid is really looking forward to the event and fastening their seat belts for a fantastic digital ride!
Academy for success - high demands on platform for lectures, events and workshops with interaction
Framgångsakademin consists of many different concepts and contributes knowledge to its participants in different formats. Among other things, interactive workshops are held with live Q&A where participants can ask questions to the lecturers in real time to get answers to their specific questions about sales, rhetoric or building companies. The workshops that are held are also in an interactive format, where participants themselves can be in the picture and meeting to discuss and provide input. Thus, the Framgångsakademin requires a solution that handles interaction across a vertical of uses and types of events - both for the less intimate meetings and workshops that are held, but also for the larger webinars with thousands of participants where conversion rate, call-to-actions, and statistics become important.
A CTA button that drives sales at webinars
By being able to easily activate a call-to-action button, participants can easily and clearly navigate from Univid's session where the webinar takes place on the Framgångsakademin's own page to become a member and take part in the course material. A great way for the Framgångsakademin to drive sales during the webinar with a clear CTA (call-to-action) that can be activated at the touch of a button. This is also convenient for participants who are interested in learning more and signing up for a subscription.
A greeting from Alexander Pärleros, the founder of the Framgångsakademin
Here is a greeting from Alexander Pärleros, who proudly presents the Framgångsakademin's choice of event platform for their webinars - the fastest growing virtual event platform in Sweden - Univid.
Get started today
Join over 70,000 users and create unique webinars with Univid.
Get the latest webinar hacks