A visually stunning digital event in Twenty Studios - Advania Accelerate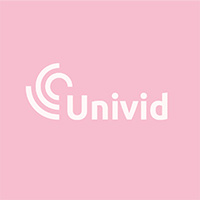 Published: May 28th, 2021
Colors and customization made this event one of our most visually beautiful digital events. An entirely digital event in Twenty Studios in Stockholm with Advania. Guest speakers from Tech Data with Johnny Nyfiken and others.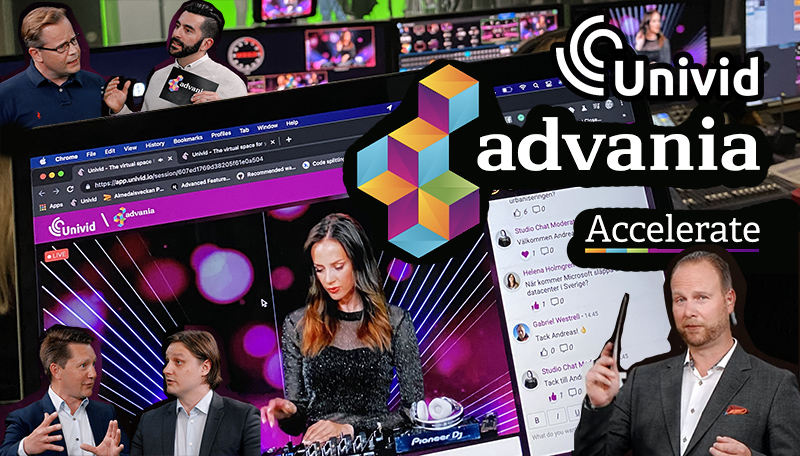 This Wednesday, Advania held its digital Accelerate event at Univid. The digital event involved experts in topics such as digitization and innovation, infrastructure, IoT, cyber security and networking. It was a fantastic live stream event with custom colors, backgrounds and logos.
A studio broadcast - choosing the right format
When you choose the type of digital event and live broadcast, it is important to understand what you value most and want to get out of the event. There are simpler options that require a smaller budget and preparation - e.g. a webinar or digital meeting you can arrange yourself. If you prioritize the event's image quality, production level and professionalism - on the other hand, a studio event is an excellent choice to put your company on the map and make people remember you. If you decide to hold a studio event, there are a few different choices of studios, event companies and platforms to choose from. Below is an example of how Advania chose to keep its digital Advania Accelerate in Twenty Studios, with Univid as the broadcast platform!
Twenty Studios in Stockholm
The meeting room was designed to create a consistently exclusive and beautiful look and feel together with the studio's color scheme and effects of Twenty Studios . Twenty Studios is a quality-driven studio for live broadcasts and digital productions, which has used Univid as a platform for several previous broadcasts. Twenty specializes in creating and visualizing effective communication and has a 1,500 square meter studio in Stockholm City. For this broadcast, their green screen studio was used to be able to adapt the environment and backgrounds completely virtually.
Visually beautiful - a graphic live broadcast in studio format for Advania
In the event platform, Advania could then, together with the event company BSC Business Service Club, easily adapt colors, backgrounds and logos to match the specific event and company. Customizing the event page can be done in under 60 seconds and requires no technical skills at all. The idea with Univid is that everyone should be able to do this and it should really be super easy. The theme was consistent throughout the digital event, from studio to broadcast platform, which gave a really cool overall experience that really was breathing Advania.
Discussions that flowed, musical entertainment and audience discussions
With about 100 participants, the discussions flowed and the audience questions were facilitated by the moderator Daniel Albertsson - Advania, in the studio for an interactive live experience. The event company BSC Business Service Club arranged the event for a seamless experience and combined the digital concept with music entertainment by @DJ Kristina in the breaks - which really enhanced the event experience through fantastic music and dynamics into the mix.
Guest speaker from Tech Data - Johnny Nyfiken
Among others, Johnny Nyfiken from Tech Data was a guest speaker at the event. Johnny Nyfiken contributed with knowledge about the Internet of Things and how to break down these concepts in simple terms that ordinary people can understand. Tech Data provides Sweden's resellers with IT products and is found all over the world - a bit of a lowkey massive player in the Sweden tech industry! Advania's very own Daniel Albertsson also moderated the event in an highly professional manner.
Some of the fantastic topics and speakers for the event:
Innovation & Digitization in partnership: Daniel Albertsson, Chief Digital & innovation Officer, Advania
The journey towards the infrastructure of the future: Andreas Selevik, Transformation and Cloud Architect, Advania
Maximize the effect of IoT in your business: Johnny Nyfiken, Tech Data
Cyber security - increased maturity to reduce risk: Fredrik Möller, Business Area Manager, Advania
Controlled and easy Access: Erik Jonasson, Sales Specialist, Advania
HD studio quality and recording of the event for on-demand
The event was streamed live via RTMP to Univid and recorded in full HD, which means that participants can watch the event in sharp high quality 1080p both live and on-demand afterwards for those participants who could not come on the live broadcast or wanted to watch the event again. The event page then could live on in Univid - so neither event managers nor participants had to worry about finding a new location for the broadcast when the event was over. The interaction also remains and can live on-demand, if you e.g. want to follow up with any question or discussion point.
Analyze the event afterwards with statistics, analytics and have the opportunity to benchmark
As an event organizer, you also have the opportunity to extract a lot of interesting statistics about how the participants have interacted with the event and what people experienced as interesting sections based on their interaction during the event. To understand how the event delivered in quality compared to previous digital events you hosted, or events by other players in the same industry - you can also use the data to benchmark the event.
Get started today
Join over 70,000 users and create unique webinars with Univid.
Get the latest webinar hacks