Almedalsveckan Play - A digital Almedalen
Univid is the official supplier of the platform Almedalsveckan Play. For you as an organizer, we offer a seamless experience through our two groups of additional services. Either you can choose to broadcast live in the highest quality directly via Univid. Or broadcast via any platform and embed it in a beautiful and interactive session in Univid.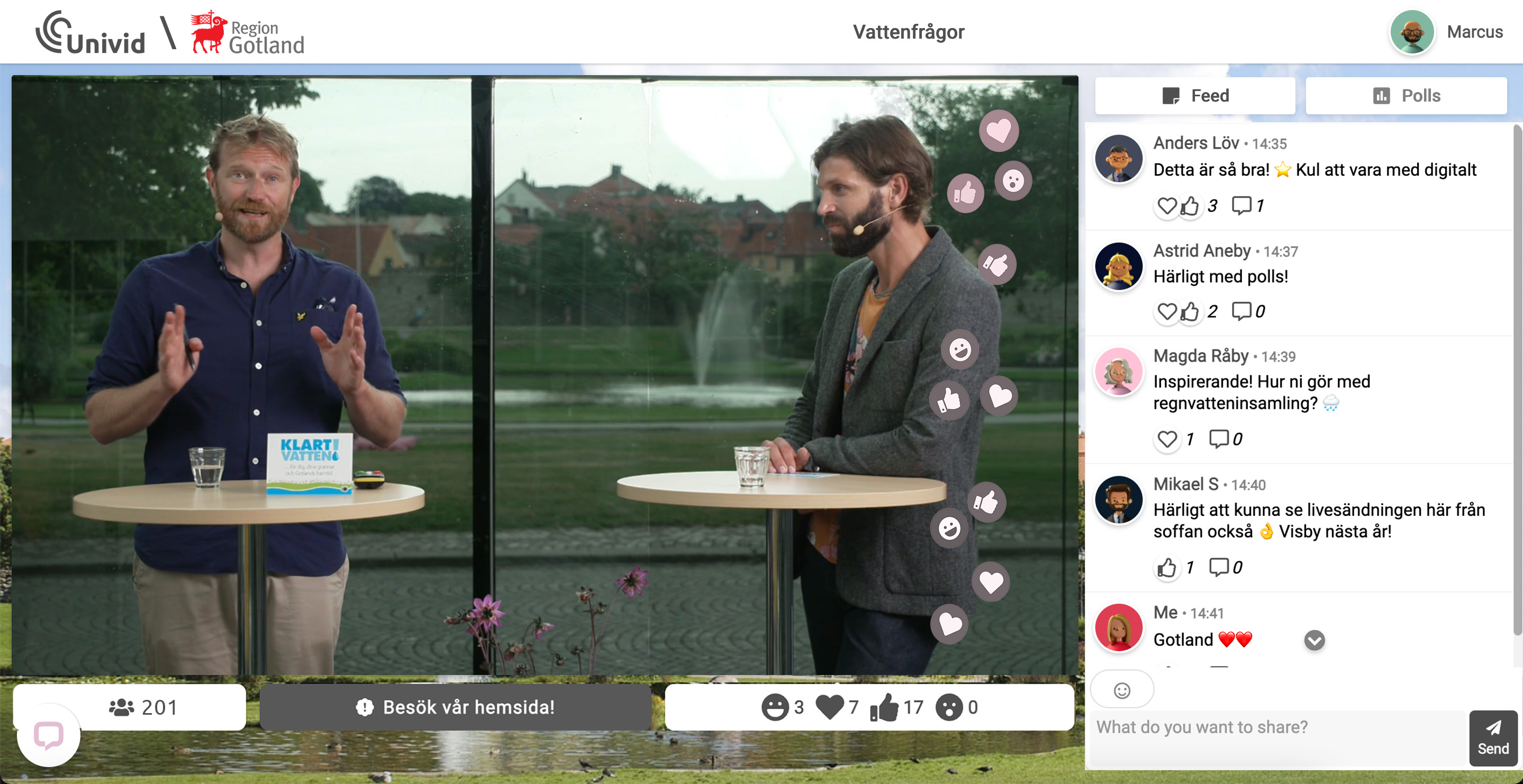 (I) Chat and interaction via Univid
Add interaction to your streams on Almedalsveckan Play and stream via your favorite platform - like Youtube, or Vimeo
Gamification / Leaderboard
(II) Livestreaming via Univid
Livestream directly via Univid for a smooth experience
What is Almedalen Week?
Almedalen Week, formerly called Politicians' Week in Almedalen, is the world's largest democratic meeting place. The week is held annually in Almedalen, Visby on Gotland, where representatives of both the Swedish political parties as well as interest groups and companies gather and discuss politics and important societal issues.
What is Almedalen Week Play?
Almedalen Week Play is this year's digital Almedalen. It is the place where all digital events gather. The place where participants can easily see and take part in what is happening during this year's democracy week. In 2021, more than 700 events were held over four days in July. The play service was developed together with Region Gotland and developed by the official provider Univid.
A digital Almedalen for four days
In 2021, Almedalen Week did not involve a physical event in Almedalen, Visby. Instead, about 400 organizers gathered and produced 719 digital live events in the four days that the democratic "week" took place. Visitors could navigate to Almedalen Week Play to take part in and explore all digital events. In 2021, the digital Almedalen Week had around 150,000 page views! Digital meetings were the format most organizers chose to engage their participants, and over 70 percent of all digital events had some form of interactivity. The digital format has also made it possible to both visit and arrange their events from different geographical locations. In 2021, organizers from Finland, England, France and California held events at Almedalen Week Play.
Who are at Almedalen?
Politicians, government agencies, non-profit organizations, municipalities and county councils, youth unions, environmental activists, business leaders, entrepreneurs, politically interested people and other curious visitors. In 2021, there was the following distribution between the organizers:
26% non-profit organizations
18% companies
16% public sector
15% cooperation between several types of organization
11% interest groups
14% others
Why should you really visit?
For you as a visitor, it is completely free to participate - quite awesome to start with! You get access to a lot of interesting lectures and events. But above all, you get the opportunity for valuable networking with decision-makers, opinion leaders and entrepreneurs around the country. Serendipity at its best!
To broadcast live on Almedalen Week as organizer
Participating as an organizer during a digital Almedalen Week is easy, but requires some preparations.
Before a certain date, it is free to apply, and after that the application costs a few thousand SEK. For the frugal who prioritizes budget, it is therefore good to be out well in advance before July!
As an organizer, you register your event in Almedalen Week's program page , where you enter information about the event and links to the live broadcast or the digital meeting! You can change and update the information and links continuously after you have registered your event - so you do not have to worry that everything will be perfect when applying. Just remember that your event must be tied to a democratic theme of some kind!
If you want to be included afterwards on the play service - Almedalen Week Play, it is possible to add a so-called archive link to the recorded event. These on-demand videos are up until the spring of next year.
Read more - Almedalsveckan Play