Go Care hosts beautiful and custom webinar for job seekers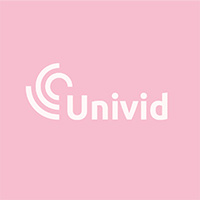 Updated: February 22nd, 2023
Published: June 11th, 2021
A webinar with Go Care with a simple and beautiful layout that merges with the studio - Kakan Hermansson and guest speakers from Epidemic Sound engage the 300+ job seekers participating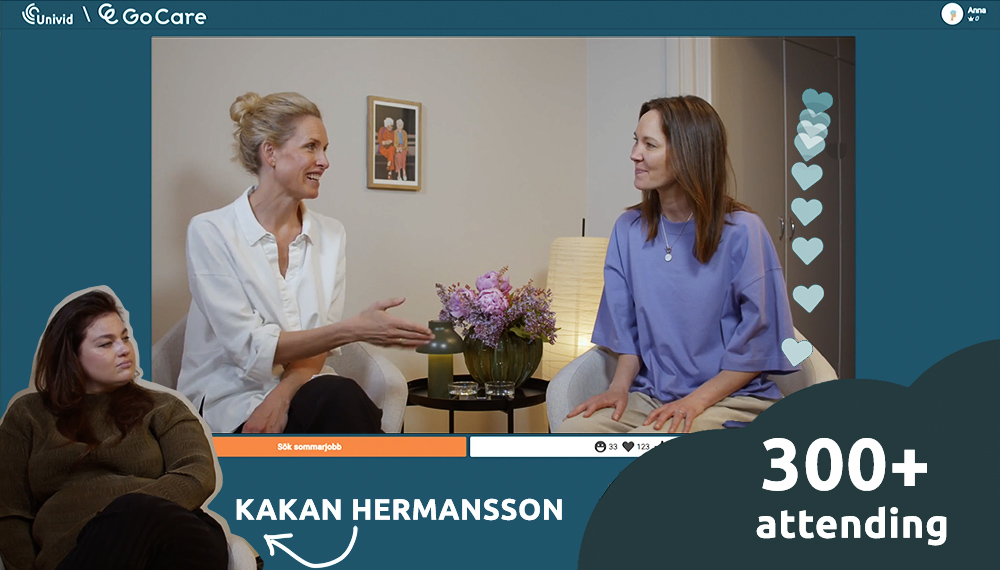 Simple and custom - a webinar in style
Go Care wanted a clean and stylish look, that went along with their graphic profile and touch. In just a few minutes the event page and session was up on Univid - branded with the Go Care logo and with the option to reduce down functionality to get a cinematic look - with just reactions, the stream and a CTA button to drive conversions.
Feedback from Go Care
- The platform was awesome and we appreciated that it was possible to adapt it to our graphic profile. The reactions also provided a lively and wonderful touch. We will definitely use Univid for our future events.- We have been fantastically satisfied with all the help we received from Univid before, during and after the event. They took responsibility, had back-up plans if something was not going to work and got involved in every way which allowed us to relax and focus on the event. Many thanks!Fanny Falkenberg, Founder and Partner, Go Care.
Streaming via studio - high profile guest speakers and hosts
The co-host of the webinar that joined the two founders of Go Care in the studio, was the famous influencer, host and artist Kakan Hermansson. Some guest speakers of the event involved Oscar Höglund - the CEO of Epidemic Sound, Lena Hallengren - Social Minister of Sweden, and Emma Lindgren - Director Nordics of Ashoka. Quite an amazing line-up!
Driving traffic with a call-to-action button
Go Care is on a mission to improve the elderly care in Sweden and are thus driving a campaign to get job seekers applying for summer jobs in the eldery care industry. Thus, they could simply turn on a call-to-action (CTA) button in the Univid webinar - using their own text and linking directly to their job application signup page. With over +300 participants this webinar drove substantial traffic and progress towards their goal.
Watch a video of the webinar down-below - such a visually beautiful and feel-good event:
Get started today
Join over 70,000 users and create unique webinars with Univid.
Get the latest webinar hacks