Beautiful mentometer type of quiz and polls via Univid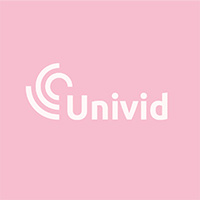 Updated: February 22nd, 2023
Published: June 2nd, 2021
So Univid enables interactive events - let's look at a major mentometer type of functionality that makes events more interactive - votes, polls and quizzes.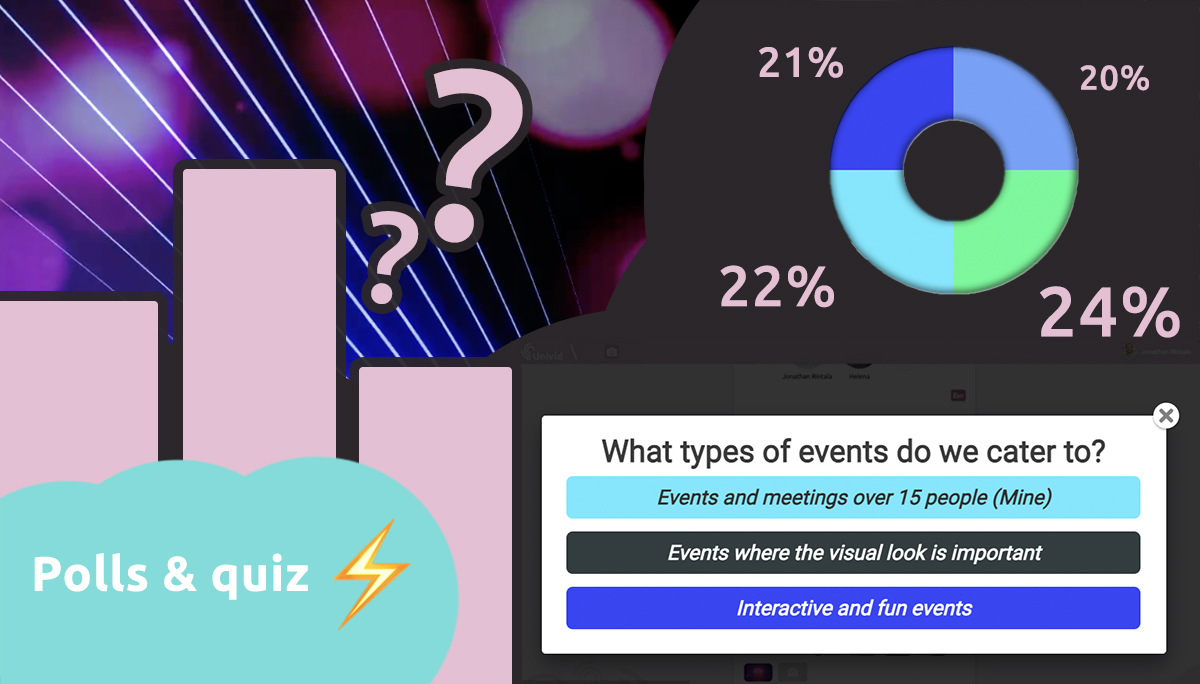 What is a mentometer?
A mentometer is a powerful tool to interact and communicate between host and participants, allowing the participants to vote and visualize their input in real-time via graphs, numbers, and illustrations. Historically, a mentometer was a physical device, but today there are powerful mentometer functions built into many digital solutions directly, such as in Univid.
Tips for hosting a successful digital mentometer
So we understand that the mentometer is a good opportunity to engage our event participants and get them fired up, but how do we really succeed with the mentometer format? Here are some tips to keep in mind as an event host, to really get the interaction started:
Plan the questions in advance and make sure that they fit with the content. Maybe even adapt the content of the event to the different mentometer questions to be asked and the interaction you want to get started.
Start the event with a mentometer question to get the audience activated immediately. The first minutes at a digital event are so important for the overall experience. Work on a fun question or vote, which can capture the audience's attention, activate them immediately and get a feel for the mood.
Publish the questions one by one. This paves the way for optimal dynamics in the event and for people to get that wonderful live feeling where they can be involved and influence!
Have fun! Construct easy questions that make both you as a host and the participants have fun. It will make the event a memorable experience, with interaction that stands out.
Use the mentometer function to evaluate the meeting or event! A perfect way to end an interactive meeting, webinar or event is to send out an evaluation question at the end.
Why use a mentometer? Three good reasons!
Three good reasons to use a mentometer feature during your next digital meeting, webinar or event:
1. More engaging presentations and motivated participants
With a mentometer you can create presentations where you really engage and activate your audience. Up to 63% feel more motivated by a lecture that includes a mentometer and 87% experience it as more engaging. By letting the participants take a stand, answer what they have learned and contribute feedback via the mentometer, you can make your presentation unique and entertaining!
2. Increased learning by using response systems
By using a so-called response system, research has been able to show that participants remember more than 40% more of the content, 30 days after the event. How cool !? The participants thus remember your lecture or event better, and you as a host can also use the results from the mentometer to adapt your content to the next time, or even continuously during the event!
3. Shared learning in a collaborative environment and honest direct feedback
You can thus analyze your meeting, event or lecture by collecting honest and direct feedback via various mentometer solutions. Using a mentometer also helps everyone to be involved and influence - which is not only exciting as a participant, but it also raises the quality of the content when you can better understand the audience's prior knowledge, thoughts and opinions! You can really reinforce the message of the presentation by picking up relevant questions and direct feedback from the audience. For example, through a word cloud or poll with multiple-choice options and bar charts.
Word clouds and direct feedback in real-time
Everyone loves direct feedback and being able to be involved and influence. The whole point of digital broadcasting and the live format is that everyone, unlike the traditional linear TV we watch from the TV couch, can suddenly be involved and have their saying, influence the content and give feedback.
Word cloud is a popular type of just such an interactive feature that is also visualized in real time back to the participants. Word cloud is a mentometer feature where participants can respond with their own words that gather and grow into a beautiful cloud of words, which can then be displayed in real-time on top of the screen or in the live broadcast.
Smooth real-time voting in a mentometer fashion via Univid
Most events in the future will have a digital layer with a virtual audience tuning in. This digital-first way of thinking means third-party solutions for polling your audience like Mentimeter is just additional software to keep track of. Instead, we at Univid offer these type of voting, data collection, and mentometer functionalities directly in the event platform - meaning you can have your live stream at the same place where you have all the interaction with your audience - a huge value for a lot of our customers.
Create polls before or during an event
As a presenter you have the option to create polls. It is easy and fast. You can do this ad-hoc during a digital event, meeting or webinar, and it just takes a few clicks and you can get a poll or quiz question up in a few seconds. You can also prepare these ahead of the event though, and it can be quite a valuable way of planning and structuring your event - with interactivity in mind already from the content creation and not just as an external layer.
Control your flow as a presenter
So you have created your poll. Now you have the option to publish the poll and reveal the answers on the poll to the audience. When you publish a poll, the audience will get a popup with the poll to answer over the stream window. They will be able to answer the poll and can then find the poll afterward in the "Polls" tab to their right. Also, you have the option to reveal the answer of the poll for the audience - then the participants will be able to see what all the other participants (anonymously) have answered. You can choose to either reveal the answers from the start, before publishing, after you published your poll, or not at all - meaning just the presenters will be able to see the answers. Then you can choose to talk about the answers in the stream instead.
Multiple choice
You can create multiple-choice polls, where you input a number of alternatives for the audience to answer. The polls can be configured to allow the user to only choose one alternative or multiple ones. You can also set each alternative of the poll to be correct, neutral, or incorrect; this means you can use the polls as a quiz type of functionality as well. For the multiple-choice polls you will get statistics in form of a pie chart displaying the distribution of answers - which you also can reveal to the audience of course.
Free-text polls
These polls can be used as a powerful way of taking the temperature of the audience, gathering feedback without forcing some alternatives, but rather letting the participants elaborate freely in free text. The results of these polls can either be displayed as a word cloud or a simple wall of answers - both are quite a powerful and visual way of gathering user data.
Smooth real-time voting in a Mentometer fashion, with beautiful statistics is displayed for the audience in form of word clouds, pie charts, and graphs. All the results are also expandable into a new window in your browser so you can easily include them in your stream as well or show them to the moderators in a studio or hybrid setting. Polling should be smooth, beautiful, and easy!
Holding a fun quiz in Univid
On a multiple-choice question in Univid, you can easily fill in answer alternatives. On each alternative, you can choose whether that alternative should be either 1. correct, 2. neutral, or 3. incorrect.
Thus, you can easily turn a classic poll format into a more powerful and fun quiz, where participants get points based on how they respond. A quiz is a fun way to activate your audience and really create engagement. You can set one or more answer options that are correct or incorrect, allowing you to ask tricky questions in many different formats. Many participants experience quizzes and polls as the best moments on the entire live stream, and it is really a great way to get away from a passive audience sitting with another tab up. At several Univid events, the event organizer has chosen to run a music quiz or ask tricky questions about the company's history at a fast-paced digital kickoff! Amongst many, in events with customers such as Tomra Systems and Advania.
Quiz is a fun and timeless way to create commitment and will be even better if you connect the leaderboard to prices for the participants who perform best!
Get started today
Join over 70,000 users and create unique webinars with Univid.
Get the latest webinar hacks