CatMan Solutions + Univid = interactive digital network meetup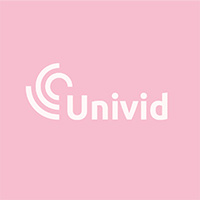 Updated: February 22nd, 2023
Published: February 28th, 2022
Recently, CatMan Solution hosted an interactive meetup for their network group on Univid. With inspiring guest speakers, network carousels for random groups and lots of interaction - it was a morning session full of interactivity, energy and knowledge sharing.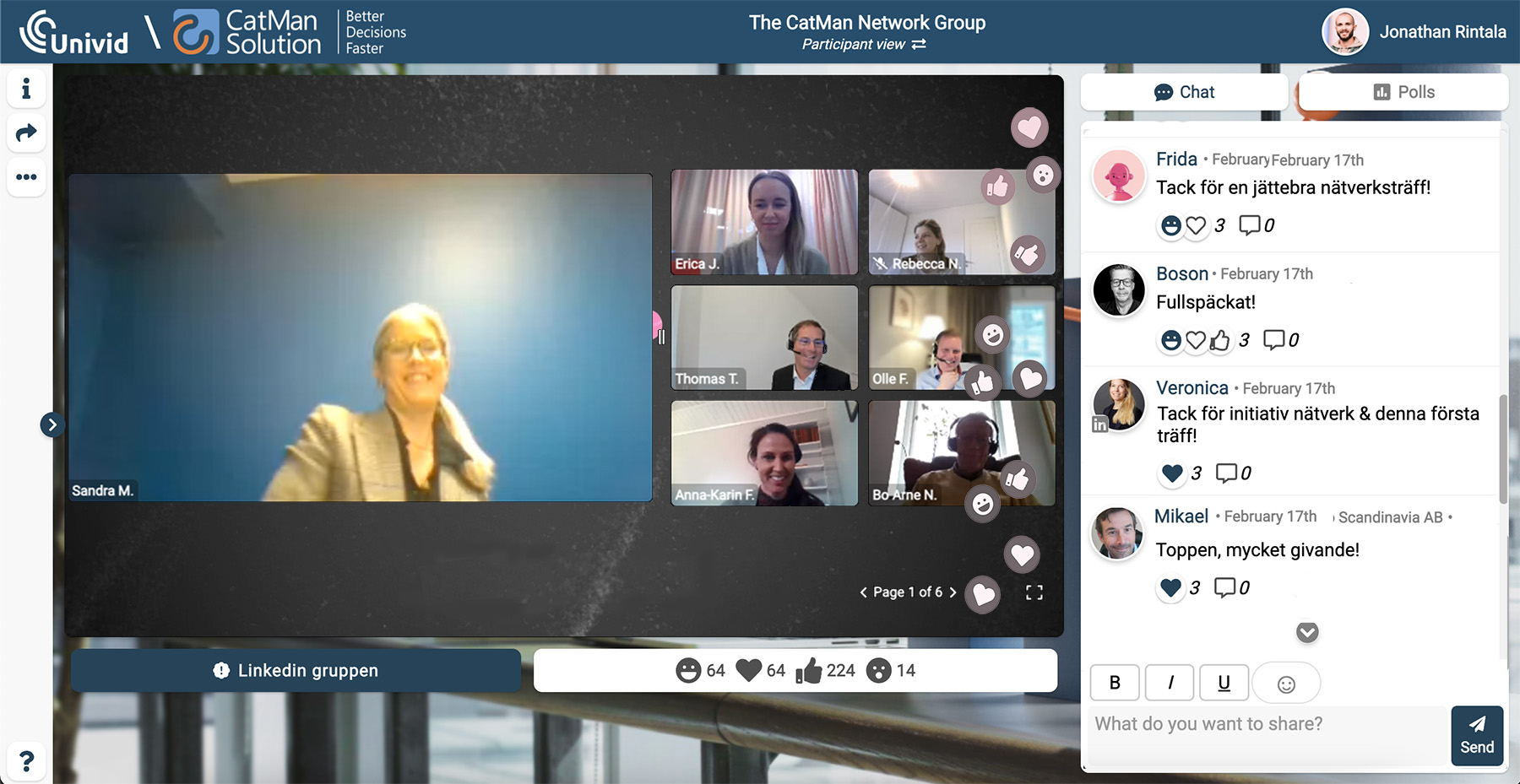 About CatMan
CatMan Solutions is the leading Power BI specialist in the Nordics that enables companies to take better decisions faster with the help of consulting, design, and tailored analytics and solutions. CatMan work with organizations in Northern Europe and across the globe.
The CatMan Network Group is an initiative to gather professionals, customers and partners, where they share knowledge and inspiration. This year the network meetups are done in a virtual format - on Univid's platform! CatMan also happens to be Univid's first Danish customer (!)
Managing the event flow - setting up an interactive event in three steps
CatMan Solutions could manage the entire event flow with Univid - from signups with a beautiful registration page that could be added to the session, engage their network group throughout the live event, invite the guest speakers seemlessly, breakout in random network carousels, and follow-up.
The event was managed in the following three steps:
Set up a session for the event
Add a registration page
Run network carousels and engage the participants
1. Set up the session for the event - get a customized look-and-feel
With Univid, CatMan Solution could customize the look-and-feel of the session - with their logo, branding and premium feel. Just like when choosing a venue or room for your physical event - CatMan could quickly customize their session to really look fresh, setting it apart from a boring and formal everyday type of meeting, and match their brand nicely.
Also, the moderators were added to the session with some agenda letting all the attendees know the schedule and content of the event!
Voila! The session was starting to look fresh and ready to go live with.
2. Add a registration page
Before CatMan sent out the link to the participants - the access of the session was adjusted - to include a registration page, so the attendees could get a beautiful registration page, where they could easily sign up and get automatically reminded of the event!
In two clicks the registration page was up - looking pretty neat and ready to be sent out to the event attendees!
3. Run network carousels and engage the participants
It was now time to go live. Network carousels were prepared and guest speakers invited! The event was started with some presentations and walk through by the moderator Thomas, who then let the guest speakers join, share slides, live videos, and then engage the participants with network carousels, reactions, and chat.
The event was finished off with some interactive polls, where the attendees got to input some thoughts and ideas, evaluate the session, what they wanted to see more of, etc.
Also, a call-to-action button to join the CatMan Network Group on LinkedIn was activated throughout the event - so attendees could easily join the LinkedIn group to continue their discusssions and information exchange there!
Feedback from the event
100% wanted to participate at future meetups with great feedback in polls:
And the response was awesome from the attendees in the chat (Swedish):
Mycket trevligt event, lättsamt och informativt!
Tipptopp!
Tack för initiativ nätverk & denna första träff!
Toppen, mycket givande!
Snyggt arrat Catman!
Toppenbra upplägg med mycket info, inspiration och nätverkande på kort tid! Stort tack
Tack för ett bra första event!
Jättetrevligt event och bra gästtalare! Tack för idag!
Tack för härlig träff ooch inspirerande gästtalare bra ordnat!
Stort tack, ser fram emot nästa tillfälle!
Moderator Thomas from CatMan in action during the event - managing breakouts, guest speakers and chat - at the same time in a Univid session!
A great way to utilize the digital format for a truly premium feel and interactive session! We want to see more of that - great job to both CatMan and Thomas! ⭐⭐⭐ / Team Univid
Get started today
Join over 25,000 users and create unique webinars with Univid.
Get the latest webinar hacks