KTH Fill the Gap - An innovative virtual event to attract new talent with live Q&A and quiz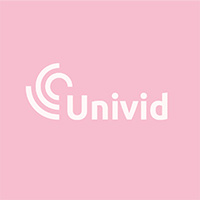 Published: February 23rd, 2022
Live Q&A, quiz, and interaction. KTH Fill the Gap - an initiative by KTH Royal Institute of Technology, focuses on attracting a broad spectra of talent to make the technology sector more diverse. KTH choose Univid as a platform for the digital event, which attracted high school students from all around Sweden. In an interactive format, the prospecting students had the opportunity to interact with existing KTH students and alumni through live Q&A, chat, quiz and reactions! Also, the different programs were represented in breakouts where specific questions could get answered. With over 3000 reactions, over 400 comments and questions, the event was truly an appreciated initiative, and many questions got answered during two intense hours!
About KTH Fill the Gap
KTH Fill the Gap aims to increase the proportion of female and non-binary students on study programmes where they are underrepresented at KTH. It is an online initiative on social media, accompanied with a live digital event run on Univid. More female and non-binary engineers are needed, and the campaign features five female alumni who each represent their particular "gap". In other words, an important area where more diversity is needed to solve future societal challenges.
Setting up the virtual event
So, the different sessions were easily setup and tailored to match the KTH branding and colors. The virtual event was planned out with different live sessions in parallell and a main session where the event started. The hosts could set everything up themselves - then multiply theme accross the event, adjust sidebar information, and send out the links to the participants!
"We were looking for a platform that was easy to use for us and at the same time fun and engaging for our young audience and Univid provided just that. We were very happy to see that our audience was interacting with us as well as with each other during the entire event."
Alina Lingnau - Public Relations Officer, KTH Royal Institute of Technology
One powerful space gathering all the live sessions
The sessions were gathered in a space, so the virtual event participants could easily get access to all of the sessions, overview them and jump between the live sessions easily. The space could be adjusted easily to match the looks of the individual sessions! Clean and stylish.
The main session - livestream and quiz questions
Things started off in the main session where the participants could watch the studio livestream, professionally moderated and produced in the highest quality! Also, interaction was popping of with both polls, reactions and leaderboard activated. With thousands of reactions and around a 100 comments and questions the energy was high, and the students had many thoughts, ideas, and really wanted to be a part of the virtual event! The hour was soon over and people were getting ready for the live questions and answers, with the different programs represented in separate rooms.
6 different live sessions and Q&A in parallell
Six different live rooms where open for the participants to jump between, using the space as an overview. In each room - 3 to 6 hosts from KTH were participating in video for the live Q&A. The hosts consisted of both students, professors, and program managers. The questions were many and the last hour went by fast, in an interactive fashion were the participants could get all the answers they could imagine.
With Univid each individual live session and Q&A could be highly scalable, handling 1000s of participants if needed! It was fun to see the amount of interaction, and how much fun the students were having learning more about KTH, the different programs, and what to apply for.
Lots of questions and great insights in a virtual event format
An virtual event like this provides a ton of good insights that are super useful for you as a host. You get input on many great questions, and thoughts that you can continue working on, make sure you answer on the website, etc. Also, the session can be utilized to analyze what parts of the event was good and what parts need improvement - to further perfect your content and flow.
Univid <3 KTH
At Univid, we are super excited to be collaborating with KTH now as a customer, since we have our roots at KTH - both as part of KTH Innovation and as engineering students ourselves back in the day - how awesome!
Get started today
Join over 70,000 users and create unique webinars with Univid.
Get the latest webinar hacks