Förinkubatorn på KTH Innovation - ett Stockholm-startup
Published: February 10th, 2021
Från idé till ett intäktsgenererande startup via förinkubatorn på KTH Innovation i Stockholm, Sverige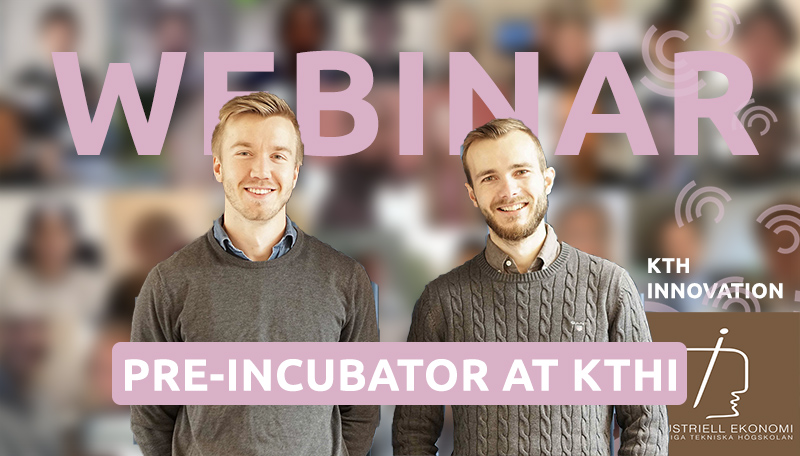 Yesterday we were invited to speak at a webinar by iStart and Sektionen för Industriell Ekonomi at KTH, together with @Donnie Lygonis from KTH Innovation (KTHI). We spoke about our journey at Univid - from having an idea two years ago, to hosting our first event with one of the leading tech companies in the world as a customer. A wild ride involving COVID, and the transition from running an ambitious side-project to now being full-time entrepenurs, running a revenue generating company. We talked not only about Univid's startup journey, but also about what an amazing opportunity KTH Innovation and pre-incubation program is. I thought I would summarize abit about what we talked about, if you missed the webinar and are interested in knowing more about the program. For us, it has been an absolutely invaluable experience. So here we go.
Fuel your idea with the pre-incubator at KTH
Invaluable network opportunities
In the pre-incubator you get an invaluable network of other startups, in similar stages as you. Think of this as your classmates. You can ask for help in the areas you are struggling in, and in return you will help other companies deal with the situations you are more familiar with. You learn a ton by helping your peers out, often times you even find similarities with your own company, and stumble upon innovative solutions to problems you have been stuck with yourself. We have worked closely with Nightli, our neighbours at the offices when they were still open. They are developing an app to make the nightlife great, definitely not the same industry as Univid; but we have still had alot to learn from each other, and it has been highly motivating working side-by-side, pushing each other.
Outside the peer-to-peer networking with the other companies, KTHI provides great contacts with the industry. We have had the privilege of participating in the Early Bird Network pitching sessions, where we got to pitch and receive transparent feedback from top investors in the Nordics. Also, we have been connected with some of the best VC firms and angel investors directly, which have allowed us to start building strong relationships with these actors early on, positioning us for future fundraising.
Guidance and structure into the madness of a startup
The pre-incubation program provides you with a business coach, ours has been @Donnie Lygonis, and he is amazing. All of the coaches are highly experienced individuals, with industry knowledge, who have seen hundereds or even thousands of startups and ideas. They are great at leading you through tough strategic decisions, motivating you and helping you think outside-the-box. We have received help from @Donnie, quite literally, in the middle of the night when we have had big customer offers to make urgently.
You also have weekly batch meetings, where you get to meet the other startups more formally, get educated on a new topic, and guided through the readiness framework KTHI encourages you to apply to your startup. This provides structure into the otherwise quite not-so-structured everyday of running a startup, and you get time to learn, evaluate, rethink, and brainstorm. We have also had the fortune of running the weekly batch meetings on Univid, a great way for us to get valuable feedback from all the bright peers, but also a great addition to the interactive elements involving breakout rooms, quizzes, reactions, etc.
Further, we have been able to lead multiple projects with consultants to validate the market, do deep interviews, etc. through the help of KTHI. We are now also part of a tailored mentorship program via KTHI, where we got matched with a highly skilled mentor from the industry, with expertise in commercialisation and sales, which suits us perfectly in the stage we are at right now.
All that practical stuff
Starting a business is (unfortunately) not only about the famous YC mantra - build product and talk to users. There is a lot of formalities around it. When you start to formalize your business, create an Aktiebolag (AB) and start to make money you have to have all the structure in place - to pay salaries, write contracts, deal with legal matters, etc.
KTHI provides some good resources in this area. For example they have their own laywers that can help you out, and they provide help with recruiting new team members and employees to your company. Also, when COVID restrictions are not in place, the office space is great. You can hangout with the other companies in the lunch room, have your own locker, access the working spaces, and you are in the, arguably, coolest building on campus.
Finally, it is all completely free, which is kind of crazy when you think about it. So, if you are thinking about applying, starting your own venture, don't hesitate. It will be a rollercoaster, and often times it does not end up in whatever you envisioned the first day. But if you are solving a real problem and just stay persistant, continue working, it will be the most rewarding thing you have ever done.
If you have any questions about starting your own company - feel free to contact me at: jrintala@univid.io or KTH Innovation at innovation@kth.se. If you are a student or researcher at KTH, the application for the pre-incubator program Batch 13 is still open until February 17th 2021.
Kom igång idag
Gör som över 70.000 användare och skapa engagerande webinars med Univid.
Få de senaste webinartipsen